I will admit that my posting right now is somewhat lax, mostly because I am depressed and appalled at the level of hate and vitriol coming from the left, against Trump, against his family and children, against Republicans, against anyone who dares express an opinion or take an action that the left disagrees with.
The stories below are only a very very very small sample of similar stories in the past two weeks.
The last story has one further important detail: One of the thugs who harassed Nielsen in the restaurant also works at the Department of Justice.
Civilized people do not act this way. It is beyond the pale, and if it doesn't stop some very bad things are going to happen, and happen very soon.
Much of this recent hate is centered on Trump's tough immigration policy, and is generally based on ignorance and emotion, or downright disinformation. Somehow, all the problems we face are Trump's fault, even though Trump's arrest policy for illegal immigrants is merely the same policy followed by the Obama administration, but enforced in a more aggressive manner. (Unlike under Obama, no one is being released under their own recognizance.) It is also a policy that is following laws written and passed back in 2008, and signed by Republican president George Bush.
It is perfectly reasonable to disagree with Trump's approach on immigration and to try to get it changed. Readers of this website know that I myself disagree strongly with Trump on many issues, and have had decidedly mixed opinions so far about the success or failure of his presidency.
To threaten, harass, shout curses, and menace the children of lawmakers over these issues however is unacceptable. It does not solve anything, and can only lead to worse injustices.
I find this situation even more depressing because I do not see anything changing for the better. Instead, I see it getting worse, day by day. The left will simply not accept the results of the 2016 election, and appears willing to do anything to overturn it. Nor do I see the type of voter groundswell necessary that will tell the leaders on the left that this behavior must stop. Their voters remain firmly on their side, and if anything, quite willing to endorse the hate and invective being spouted by their leaders.
So, forgive me if I am "going Galt" over this. I am an optimist at heart, and like to write about positive human endeavors. Unfortunately, it is harder to spot these positive endeavors when the culture is overwhelmed by a dust storm of hate.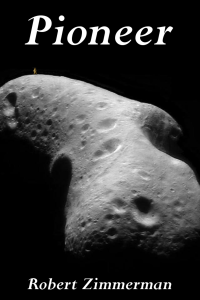 From the press release: From the moment he is handed a possibility of making the first alien contact, Saunders Maxwell decides he will do it, even if doing so takes him through hell and back.
Unfortunately, that is exactly where that journey takes him. The vision that Zimmerman paints of vibrant human colonies on the Moon, Mars, the asteroids, and beyond, indomitably fighting the harsh lifeless environment of space to build new societies, captures perfectly the emerging space race we see today. He also captures in Pioneer the heart of the human spirit, willing to push forward no matter the odds, no matter the cost. It is that spirit that will make the exploration of the heavens possible, forever, into the never-ending future. Available everywhere for $3.99 (before discount) at
amazon
,
Barnes & Noble
, all ebook vendors, or direct from the ebook publisher,
ebookit
. And if you buy it from
ebookit
you don't support the big tech companies and I get a bigger cut much sooner.