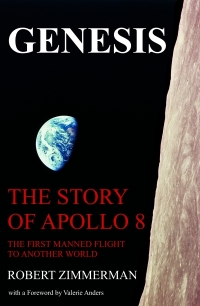 On Christmas Eve 1968 three Americans became the first humans to visit another world. What they did to celebrate was unexpected and profound, and will be remembered throughout all human history. Genesis: the Story of Apollo 8, Robert Zimmerman's classic history of humanity's first journey to another world, tells that story, and it is now available as both an ebook and an audiobook, both with a foreword by Valerie Anders and a new introduction by Robert Zimmerman.
The ebook is available everywhere for $5.99 (before discount) at
amazon
, or direct from my ebook publisher,
ebookit
.
The audiobook is also available at all these vendors, and is also
free with a 30-day trial membership to Audible.
"Not simply about one mission, [Genesis] is also the history of America's quest for the moon... Zimmerman has done a masterful job of tying disparate events together into a solid account of one of America's greatest human triumphs." --San Antonio Express-News
In Seattle on June 9, 2020 a group of rioters and Antifa and Black Lives Matter radicals took complete control over a seven block wide area of the city, throwing out the police, taking possession of the police station, and declaring the area the Capital Hill Autonomous Zone (CHAZ).
The next day, June 9th, President Donald Trump tweeted the following:
Radical Left Governor @JayInslee and the Mayor of Seattle are being taunted and played at a level that our great Country has never seen before. Take back your city NOW. If you don't do it, I will. This is not a game. These ugly Anarchists must be stooped (sic) IMMEDIATELY. MOVE FAST!
Not surprisingly the response from the Washington Democratic politicians was contempt and defiance.
Gov. Jay Inslee also fired back at Trump on Twitter, posting, "A man who is totally incapable of governing should stay out of Washington state's business. 'Stoop' tweeting."
I think their contempt here is justified. Trump, who until the arrival of the Wuhan flu panic this spring had consistently stood up against the bullying and irrational hate of the left, has been played by them badly in the past three months.

First he allowed them to impose lock downs by agreeing to activate the National Guard for the very partisan Democratic governors in New York, California, and Washington so that they could declare an emergency and lock down their states. This action by Trump on March 22, 2020 forced many other governors from both parties to follow suit. The lock downs were a disaster, but Trump was one of the reasons they happened. Had he told these governors right off the bat that this was a terrible idea and he wasn't going to help them, he might have put some spine in many of the weak Republican governors elsewhere (such as in my state of Arizona), and kept most of the country humming economically while these Democratic states got shut down and went bankrupt.
Trump did not. He went along with their bad policy, and now is paying for it.
Then we have the George Floyd riots of the past two weeks, almost all of which have been concentrated in Democratically controlled strongholds. Repeatedly Trump has blustered that if the Democrats in these cities and states did not take action to stop the looting and violence, he would. And he has the legal right to do this, under the Insurrection Act, a law that has been used repeatedly in the past by Presidents from both parties for exactly the same reasons. (Its most recent use was during the 1992 Rodney King riots.)
And yet, he has done nothing. Instead, when the pedal hit the medal and the left finally decided, after four years of repeated fake political attacks (all of which failed), that outright revolt and violence were now the proper tactics to resist Trump's presidency, he has looked like a paper tiger. And based on his timid unwillingness to clean house in the FBI and the Justice Department after it has been clearly proven that those agencies have been running a fifth column coup operation against him for four years, this decision of the left appears to make eminent sense. He has done nothing there. Why should he do anything to stop outright revolt?
So far, the left's judgment of Trump has proven true. After violence and looting, the left has accelerated its efforts at intimidation, blacklisting, and bullying of all conservatives as well as anyone who challenges them. They know he will do nothing, so they push hard, taking advantage of his weakness.
If Trump does not act soon, I expect that the left's next step will be to sabotage the election process in November so that it will be impossible for him and any Republican to win, even if they get a large majority of the vote. The Democrats have already begun this process with their push to switch entirely to mail-in ballots, an approach that guarantees them an easy way to fake votes in large numbers. If they get this passed (something I do not consider impossible based on the weak stupidity of the Republicans), expect no conservative to win an election for decades, if ever. In fact, say good-bye to our democracy. We shall have made the first concrete step in the path towards Venezuela.
And even if the Democrats don't get their mail-in ballot initiative passed, if Trump doesn't do something soon he stands to lose anyway. He won in 2016 because many Americans saw him as an outsider who would clean out the corruption in the nation's political class. If he falters now, in this most obvious and violent challenge, he will fail in November. Why vote for him when he won't really defend you, when it really matters?
Readers!
My July fund-raiser for Behind the Black is now over. The support from my readers was unprecedented, making this July campaign the best ever, twice over. What a marvelous way to celebrate the website's tenth anniversary!

Thank you! The number of donations in July, and continuing now at the beginning of August, is too many for me to thank you all personally. Please forgive me by accepting my thank you here, in public, on the website.

If you did not donate or subscribe in July and still wish to, note that the tip jar remains available year round.
Regular readers can support Behind The Black with a contribution via paypal:
If Paypal doesn't work for you, you can support Behind The Black directly by sending your donation by check, payable to Robert Zimmerman, to

Behind The Black
c/o Robert Zimmerman
P.O.Box 1262
Cortaro, AZ 85652