Read any analysis by any mainstream news or science publication of Trump's 2021 proposed science budget, released this week, and you will come away thinking that the future of science research in the U.S. is doomed and that Donald Trump is a neanderthal who wishes to send us back to the dark ages.
Consider for example this article from the journal Science, Trump's new budget cuts all but a favored few science programs, which begins like so:
For the fourth straight year, President Donald Trump has proposed sizable reductions in federal research spending. To be sure, it's no longer news that the president wants deep cuts to the budgets of the National Institutes of Health (NIH), the National Science Foundation (NSF), and science programs at the Department of Energy (DOE) and NASA. And in past years, Congress has rejected similar proposals and provided increases. But Trump's 2021 request brings into sharper focus what his administration values across the research landscape—and what it views as unimportant.
The article then outlines how Trump is slashing spending on science research across the board, even to the point of spinning the NASA budget to make a significant budget increase appear as a cut, by cherry-picking only some of that budget's science programs.
This article is typical of the mainstream press. These articles never provide any context for the proposed budget numbers. They look at what was spent the year before, see what is being proposed for the next year, and if they see any reduction they scream. And if it is an evil Republican president proposing the cuts they scream far harder, implying that those cuts will guarantee the coming of a new dark age.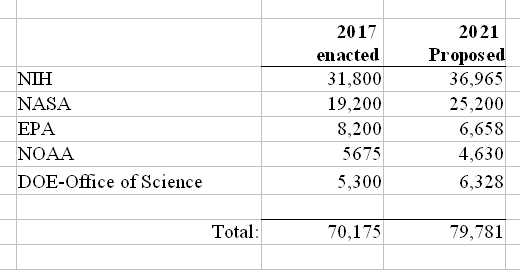 To the right however are the budget numbers (shown in thousands) for five of the biggest science agencies in the federal government, comparing Trump's 2021 proposed budget numbers with the last science budget approved at the end of the Obama administration in 2016.
Notice anything? Yes, that's right, the total spending proposed by Trump is higher. Even if you remove the $6 billion extra for NASA, most of which is aimed at Trump's Artemis Moon project, the overall total is still $3 billion more.
In other words, Trump is not slashing science spending. If anything, he is continuing the federal government's out-of-control growth. For example, the budget for NOAA for years was somewhere around $4 billion. Beginning in 2013 Obama gave NOAA an annual billion dollar boost, bringing it above $5 billion, even though that agency has been building very few new weather satellites. Trump is merely trying to bring NOAA's budget back down to those earlier more reasonable numbers.
And then there's the NASA budget. Yes, Trump is trying to terminate four missions, but he isn't doing it mindlessly. There are sound reasons to do so in all four cases. For example, WFIRST, a big space telescope comparable in size and expense to the James Webb Space Telescope, has from the start had serious budget and scheduling issues. By all indications, it is going to do the same as Webb, eat up the entire astrophysics budget at NASA for another decade, preventing the construction of any other space telescopes. Rather than build one giant boondoggle, as the astronomy community had NASA do with Webb, Trump wants to dump WFIRST so that the agency might instead have the chance to build many smaller space telescopes, launched frequently and studying a wide range of subjects.
Similarly, Trump's proposal to terminate the airborne SOFIA telescope makes sense. It is expensive and does not produce much science. Better to put that money elsewhere. This is also the same conclusion the Trump administration has come to for the two earth science satellites it wishes to cut. Their science isn't going to be worth the expense.
Despite these trims, however, Trump's NASA 2021 budget proposal is another example of our out-of-control federal government. The administration appears to have made an all-out commitment to Artemis, SLS, Orion, and Gateway, committing big money to all three. For example, the budget provides $1.4 billion for Orion in 2021. That's almost three times what SpaceX spent to develop Falcon Heavy, in its entirety. It is also on top of the $17 billion already spent since NASA awarded the contract to Lockheed Martin in 2006.
And what are we getting for spending almost $20 billion? Three flight capsules. Bless my heart!
NASA does say it wants to buy much of what it will need for Artemis from private companies, rather than build those things itself. This is good. The large numbers requested however suggest to me that NASA does not want to be forced to keep a tight budget. That is not good.
Overall, while this new Trump budget does attempt to cut spending imposed by Congress from the year before, it still illustrates once again that little has changed on a fundamental level in Washington. The same players are pushing for more spending, and they expect to get it. And I will not be surprised it Congress goes along (no matter which party is in control), endorsing Trump's push for more spending where he asked for it, while rejecting all his cuts.
The result will be a continuing and mindless ballooning of the federal debt, something that simply cannot continue forever.
Readers!
My July fund-raising campaign for 2021 has now ended. Thank you all for your donations and subscriptions. While this year's campaign was not as spectacular as last year's, it was the second best July campaign since I began this website.
And if you have not yet donated or subscribed, and you think what I write here is worth your support, you can still do so. I depend on this support to remain independent and free to write what I believe, without any pressure from others. Nor do I accept advertisements, or use oppressive social media companies like Google, Twitter, and Facebook. I depend wholly on the direct support of my readers.
If you choose to help, you can contribute via Patreon or PayPal. To use Patreon, go to my website there and pick one of five monthly subscription amounts, or by making a one-time donation. For PayPal click one of the following buttons:

If Patreon or Paypal don't work for you, you can support Behind The Black directly by sending your donation by check, payable to Robert Zimmerman, to


Behind The Black
c/o Robert Zimmerman
P.O.Box 1262
Cortaro, AZ 85652