The recent spat of positive tests for COVID-19 among the Washington elite, including President Trump, highlight spectacularly the continuing overreaction and unnecessary fear and terror that people have of this respiratory illness.
All told since October 1st about eighteen Washington elected officials, staffers, and reporters have announced testing positive for the coronavirus, based on several reports here, here, and here.
These of course are only the announced cases. I suspect that in Washington a lot more are testing positive but are keeping quiet about it.
And yet, among these announced cases has anyone died? No. Has anyone gotten seriously ill? No. In fact, almost no one has been hospitalized, except for Trump, and he recovered so fast that he was released from the Walter Reed hospital today after spending less than four days there. Moreover, he was sent to the hospital only out of caution, not because he was having any significant problems. During his stay it appears he continued his work schedule with almost as much vigor as before.
We used to have a saying during flu season. "Something's going around, everyone's got it." It is not unusual for a bunch of people to get sick in social groups from these kinds of respiratory illnesses, and to recover with no problem. In the past we sanely recognized this, and shrugged our shoulders calmly if we or someone we knew got sick. We drank extra liquids, including chicken soup, took some aspirins, and stayed in bed for the worst of the illness. Then we went back to work. Meanwhile, everyone else went about their business, hardly worrying about the people who are sick. We sent them our good wishes, but we also expected them back in a few days.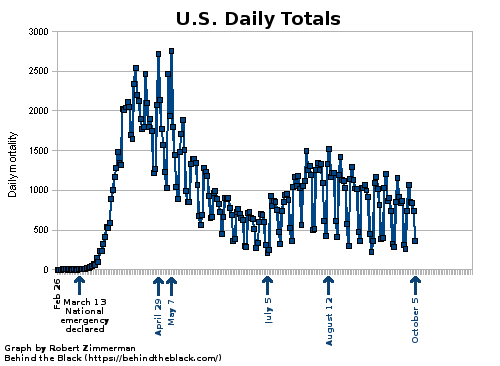 Now every such sickness, which in the case of this recent cluster is concentrated among the power-brokers in DC, is met with giant headlines and endless analysis. It is as if we have raised the common cold to the level of a national crisis, requiring major coverage by all news sources.
Yet, all they are covering are people who are at worst getting mildly sick. Most in fact have apparently been asymptomatic.
Meanwhile, the number of new daily deaths in the U.S. continues to drop, as shown by the graph to the right. Moreover, there is strong evidence that the Wuhan virus is weakening in strength, as these viruses appear to do.
Overall, the number of deaths from COVID-19 ranks it among a typical new flu epidemic, worst than the ordinary flu but not as bad as some of the previous epidemics, such as the Hong Kong flu in 1968-69. While COVID-19's numbers are beginning to catch up, when adjusted for time and population the Hong Kong flu still killed more. Yet in 1969 we didn't shut down society, wear masks, social distance, or do anything absurdly abnormal. We tried to protect the vulnerable, and went about our lives without fear or panic, landing a man on the Moon while attending events like Woodstock.
And like the Hong Kong flu as well as all such respiratory illnesses, the average age of death from COVID-19 continues to be in the high 70s, and that most deaths have occurred with people already seriously ill with any number of chronic old-age illnesses, illnesses that were very likely to kill them in the very near future anyway. This virus was just the final blow. This might sound brutal to say, but it is the truth, and we must always be willing to face the truth, no matter where it leads.
Everyone else continues to be hardly bothered by this virus. Most apparently show no symptoms, and wouldn't even have known they got it and got better, except for the mania to test everyone. Those that do get sick seem to recover with no problems, as long as they are healthy and young. Even the old, such as 74-year-old Donald Trump, recover well if they are healthy.
And all the data continues to show that the very young are completely immune, without even the capability of infecting others.
If we don't start realizing the real scope of this epidemic and stop cowering in fear of it, like it is the plague, we face decades of disaster. With every flu season, guaranteed to arrive each winter, we will become increasingly fearful, and unwilling to return to normal. Soon, society will collapse, because it is impossible for humans to live this way, shut in their homes, masked and isolated from others when in public.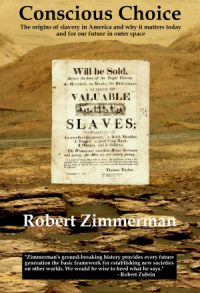 Now available in hardback and paperback as well as ebook!
From the press release: In this ground-breaking new history of early America, historian Robert Zimmerman not only exposes the lie behind The New York Times 1619 Project that falsely claims slavery is central to the history of the United States, he also provides profound lessons about the nature of human societies, lessons important for Americans today as well as for all future settlers on Mars and elsewhere in space.
Conscious Choice: The origins of slavery in America and why it matters today and for our future in outer space
, is a riveting page-turning story that documents how slavery slowly became pervasive in the southern British colonies of North America, colonies founded by a people and culture that not only did not allow slavery but in every way were hostile to the practice.
Conscious Choice
does more however. In telling the tragic history of the Virginia colony and the rise of slavery there, Zimmerman lays out the proper path for creating healthy societies in places like the Moon and Mars.
"Zimmerman's ground-breaking history provides every future generation the basic framework for establishing new societies on other worlds. We would be wise to heed what he says." —Robert Zubrin, founder of founder of the Mars Society.
All editions are available at Amazon, Barnes & Noble, and all book vendors, with the ebook priced at $5.99 before discount. The ebook can also be purchased direct from my ebook publisher, ebookit, in which case you don't support the big tech companies and I get a bigger cut much sooner.
Autographed printed copies are also available at discount directly from me (hardback $24.95; paperback $14.95; Shipping cost for either: $5.00). Just email me at zimmerman @ nasw dot org.