Our terrible press does it again. Yesterday the Trump administration released its proposed 2020 federal budget [pdf], and as usual the pro-government propagandists in the media got to work to lobby against it.
This proposed budget will do none of these things.
These articles all fail to apply even the slightest and tiniest bit of context to their analysis. The budget numbers proposed by the Trump administration might reduce the budgets of some science agencies from what they had gotten the year before, but overall the proposed budgets remain gigantic, far more than received by these same agencies only a few years before.
You don't believe me? Let me open your eyes.

Trump proposes a budget of $34.4 billion for the National Institutes of Health (NIH), $5 billion less that its 2019 budget. Has it been gutted, slashed, destroyed? No. This proposed budget is still higher than any previous NIH budget, prior to 2019.
Trump proposes a NASA budget of $21.02 billion, $500 million less than its 2019 budget. Has he gutted, slashed, destroyed NASA's future? No. This proposed budget is still higher than any previous NASA budget, prior to 2019.
Trump proposes $5.5 billion for the Office of Science in the Department of Energy (DOE), almost a billion less than it got in 2019. Has he gutted, slashed, destroyed all U.S. energy research. No. This proposed budget is still higher than any previous DOE budget, prior to 2019.
I could go on. With each budget item, the overall trend remains upward, even if Congress was to accept Trump's proposed budget without change. All the Trump administration seems to be trying to do here is to slow the growth of government, while rearranging some of the numbers to get more bang for the buck.
For example, this carefully written Space News article notes that the NASA budget eliminates funding for SLS's largest version, while proposing that Europa Clipper be launched on a commercial rocket like Falcon Heavy, thus saving $700 million. The article also correctly details other cuts, such as the cancellation of WFIRST, the space telescope boondoggle designed to eat money like the James Webb Space Telescope has, once Webb is finally finished.
Anyone who has been paying even the slightest attention to NASA in the past decade will understand the wisdom of these cuts. SLS has been a financial black hole, going nowhere while eating gobs of money. WFIRST shows every indication of doing the same, as has Webb before it. Trimming or eliminating both so their money can go to more effective projects is simply good common sense.
A close read of all the articles above, once you get past the lobbying for government funding, indicates similar thinking. At NIH for example the budget proposes some rearrangement of the bureaucracy while increasing funding for research into pediatric cancer and AIDS.
You can get an even better view of this by reading the entire the budget itself [pdf]. Nothing is being "gutted," "slashed," or "destroyed." Some agencies get increases (Defense, Commerce, Homeland Security, Veterans, Small Business) while more get decreases (Agriculture, Education, Energy, Health & Human Services, HUD, Interior, Labor, State, Transportation, Corp of Engineers, EPA, NASA). The overall effort is aimed at reducing the budget's growth, but not by very much. In the end, Trump's budget would still have the federal government larger than it was during the Obama administration.
Of course, we know that Congress will not accept this budget proposal. The House Democrats will team up with the Senate Republicans to expand the 2020 budget. SLS will get its full funding, WFIRST will be reinstated, and the funding trims for all the other agencies will disappear.
The nation's debt will grow, we will move closer to outright bankruptcy, and none of this wasted money will accomplish very much.
I apologize for being so pessimistic, but it seems to me I have been writing this same column yearly for the past two decades. Every time we have a president willing to trim spending, even by a tiny amount, the press teams up with Congress to lambast that effort with bad reporting, and Congress then proceeds to spend money like it grows on trees. And each year I describe this corrupt partnership in great detail, documenting its immoral and dishonest effort most accurately, and find that no one seems to care.
A dark age is coming, and it appears that nothing can be done to stop it.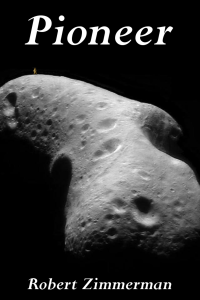 From the press release: From the moment he is handed a possibility of making the first alien contact, Saunders Maxwell decides he will do it, even if doing so takes him through hell and back.
Unfortunately, that is exactly where that journey takes him. The vision that Zimmerman paints of vibrant human colonies on the Moon, Mars, the asteroids, and beyond, indomitably fighting the harsh lifeless environment of space to build new societies, captures perfectly the emerging space race we see today. He also captures in Pioneer the heart of the human spirit, willing to push forward no matter the odds, no matter the cost. It is that spirit that will make the exploration of the heavens possible, forever, into the never-ending future. Available everywhere for $3.99 (before discount) at
amazon
,
Barnes & Noble
, all ebook vendors, or direct from the ebook publisher,
ebookit
. And if you buy it from
ebookit
you don't support the big tech companies and I get a bigger cut much sooner.