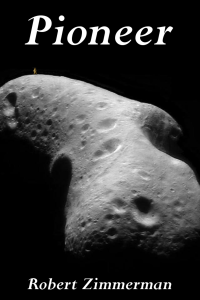 From the press release: From the moment he is handed a possibility of making the first alien contact, Saunders Maxwell decides he will do it, even if doing so takes him through hell and back.
Unfortunately, that is exactly where that journey takes him.
The vision that Zimmerman paints of vibrant human colonies on the Moon, Mars, the asteroids, and beyond, indomitably fighting the harsh lifeless environment of space to build new societies, captures perfectly the emerging space race we see today.
He also captures in Pioneer the heart of the human spirit, willing to push forward no matter the odds, no matter the cost. It is that spirit that will make the exploration of the heavens possible, forever, into the never-ending future.
Available everywhere for $3.99 (before discount) at
amazon
,
Barnes & Noble
, all ebook vendors, or direct from the ebook publisher,
ebookit
.
This week President Trump unveiled his proposed comprehensive peace plan for settling the differences between the Palestinians and the Israelis. The plan has not garnered a lot of press attention, partly because of the media's general bias against Trump, but mostly because no one expects it to be adopted. The plan is crucially important, however, not because it might become reality but because of what it reveals about the various players involved, telling us everything we need to know about them as well as what they really stand for.
The details of that plan, discussed here at great length, suggest that it offers a mixed bag to both sides. While it will give billions in aid to the Palestinians to help jump start their own sovereign state, carved out of the territories they presently hold, it also recognizes Israel's hold on the parts of the West Bank it presently occupies.
It also demands the following from the Palestinians:
Before Palestine can unlock any benefit, the Hamas government in Gaza must be removed from power and replaced with the Palestinian Authority. If Hamas wants to remain in power, the group must renounce violence, fully disarm, and accept the existence of the State of Israel as the nation state of the Jewish people. That's a non-starter. Hamas faces political and economic pressure, but a capitulation of its ideology or its power is unlikely. The plan also requires the new State of Palestine to safeguard freedom of speech and religion and promote financial and government transparency. [emphasis mine]
The responses to this plan are, as I said, quite revealing.

First, the immediate rejection of this plan by both Hamas and the Palestinian Authority tells once again that neither wants to live in peace. They have no interest in any negotiation at all. What they really want is the genocidal removal of all Jews from Israel, a desire that still remains part of both of their written charters, despite repeated past deals that required them to retract such language.
Second, the deal once again reveals Israel's willingness to make sacrifices for peace. They agreed in negotiations with the Trump administration to give up large chunks of their territory in the areas along the Egyptian border, in order to compensate the Palestinians for the land they will not get in the West Bank. They have also agreed to accept a Palestinian capital in the outskirts of East Jerusalem.
Third, the immediate and public support for this plan by the leaders of Saudi Arabia, Egypt, Qatar, and the United Arab Emirates reinforces what has become increasingly evident for the past three years, that these Arab countries are no longer willing to support the violent Palestinian leadership blindly, that they are now quite willing to reject that leadership publicly if it is intransigent. These nations have not abandoned their support for an independent Palestinian state, but they have made it clear recently that they are tired of the status quo, and are especially tired of the unwillingness of the Palestinians to consider any compromise at all.
Fourth, the public statements of support for Trump by these Arab governments demonstrates clearly the general success of Trump's Mideast foreign policy. It appears he has successfully brought these nations to our side. They are not allies, but now appear willing to work with us, and amazingly, with Israel as well. The Saudi statement is especially significant, considering the past hostility by all Arab governments to even recognize that Israel exists.
The kingdom appreciates the efforts of President Trump's administration to develop a comprehensive peace plan between the Palestinian and the Israeli sides, and encourages the start of direct peace negotiations between the Palestinian and Israeli sides, under the auspices of the United States,
Finally, and most important in the context of American politics and the insane hatred of Trump by too many liberal Americans, insistent that he is a Hitler, a dictator, a fascist, and a white supremacist, this plan proves once again that those slanders are false, absurd, and divorced from reality. Anyone who spouts them is immediately discredited as untrustworthy and foolish. In any reasonable political society such individuals should be rejected forever and cast out, incompetent to hold any position of power anywhere.
Keep these facts in mind during the upcoming presidential election campaign. If you hear anyone spout these slanders again against Trump, it will tell you as much about them as Trump's deal has told us about the Palestinians, the Israels, the Arabs, and Trump. And it should tell you to reject them, wholeheartedly and with glee.
Readers!
Every July, to celebrate the anniversary of the start of Behind the Black in 2010, I hold a month-long fund-raising campaign to make it possible for me to continue my work here for another year.

This year's fund-raising drive however is more significant in that it is also the 10th anniversary of this website's founding. It is hard to believe, but I have been doing this for a full decade, during which I have written more than 22,000 posts, of which more than 1,000 were essays and almost 2,600 were evening pauses.

This year's fund drive is also more important because of the growing intolerance of free speech and dissent in American culture. Increasingly people who don't like what they read are blatantly acting to blackball sites like mine. I have tried to insulate myself from this tyrannical effort by not depending on Google advertising or cross-posts Facebook or Twitter. Though this prevents them from having a hold on me, it also acts to limit my exposure.

Therefore, I hope you will please consider donating to Behind the Black, by giving either a one-time contribution or a regular subscription, as outlined in the tip jar below. Your support will allow me to continue covering science and culture as I have for the past twenty years, independent and free from any outside influence.
Regular readers can support Behind The Black with a contribution via paypal:
If Paypal doesn't work for you, you can support Behind The Black directly by sending your donation by check, payable to Robert Zimmerman, to

Behind The Black
c/o Robert Zimmerman
P.O.Box 1262
Cortaro, AZ 85652