While cable television and the general media goes nuts of the childish feud between Donald Trump and Fox News, Ted Cruz today got two different endorsements that not only supported his nomination for president, but also outlined in detail two completely different reasons for supporting him.
The first, at the website Legal Insurrection, outlined Ted Cruz's consistent and long term history as a trustworthy constitutional conservative. Not only does the article review Cruz's history in the Senate, where he did whatever he could to fulfill his campaign promises (often prevented from doing so by his own Republican caucus), the article also looks at his background before becoming a senator. Its conclusion?
In short, Cruz has a long (dating back to his early teens) record of being a conservative in both principle and action.  He didn't bound out of bed one day, put his finger to the wind, and decide to become a conservative (as was charged against Mitt Romney, among others); he's always been a conservative. [emphasis in original]
Conservatives have been complaining for decades that they can't get a reliable conservative nominated to run for president. With Cruz, we actually have that chance, and he will be running against the weakest Democratic candidate since George McGovern.
The second article outlines Cruz's particular advantages for cleaning out the bureaucratic corruption in the Justice Department and elsewhere in the federal government.

Of the remaining Republican presidential candidates, Senator Ted Cruz is the best choice to repair the mess that Eric Holder and Barack Obama have left at the United States Department of Justice. Cruz alone has an understanding of both the corrosive and lawless policies of the last seven years as well as the complex task of restoring the rule of law. Cruz has an outsider's zeal to reverse Obama's lawlessness with the insider's ability to overcome bureaucratic inertia.
The article notes correctly, that simply replacing the political appointees at the top of any agency won't work. You've got to fight the entrenched bureaucrats as well.
The federal government is run mostly by swarms of career bureaucrats who are immune from termination absent grotesque misconduct. Even bureaucrats who lie, steal and cheat are still employed at the Justice Department. Career employees are skilled at delaying and diverting the wishes of their political overseers. Remember, only a handful of political appointees will manage a Justice Department division with hundreds of career staff and lawyers.


To reverse the culture of lawlessness that has overtaken the Obama Justice Department, the political appointees will need the skills of an insider with the ideology of an outsider, just like Ted Cruz has.


Political overseers, and presidents, who merely issue commands to the ministerial state will invariably have those commands diluted, ignored, opposed and reversed. Assuming that Trump could issue edicts and reverse the rot at Justice is naïve. It takes an outsider with the skill of an insider to make anything happen at the Justice Department, something Cruz displayed when at the Federal Trade Commission. Trump's proclivity to rely on Wall Street or Manhattan lawyers to accomplish anything would only weaken his effectiveness in curing the government rot.
Fixing our corrupt and damaging federal government requires someone who knows how it operates, has a conservative belief that government is not the way to do things in the first place, and a staunch and strigent willingness to follow through with those beliefs. Unlike ever other candidate running for president, Cruz has all these attributes, not on what he has said but what he has done.
Based on what I have read, Cruz appears likely to win big in Iowa. Trump, realizing this fact as well, has probably backed out of the debate tomorrow to create a distraction and an excuse for that defeat. If Cruz can take the momentum from that win to do well in New Hampshire and win in South Carolina, he will be poised to become the nominee.
I might be dreaming, but it seems to me that this is exactly what every tea party conservative should be striving for, aggressively. Trump might sound good at times, but it is very doubtful he will deliver, even if he wants to. Everything I have learned about Ted Cruz however tells me that he can.
Posted from a coffee shop just outside the airport in Kalamazoo, Michigan, as I wait for my flight back home.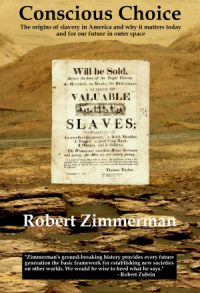 Now available in hardback and paperback as well as ebook!
From the press release: In this ground-breaking new history of early America, historian Robert Zimmerman not only exposes the lie behind The New York Times 1619 Project that falsely claims slavery is central to the history of the United States, he also provides profound lessons about the nature of human societies, lessons important for Americans today as well as for all future settlers on Mars and elsewhere in space.
Conscious Choice: The origins of slavery in America and why it matters today and for our future in outer space
, is a riveting page-turning story that documents how slavery slowly became pervasive in the southern British colonies of North America, colonies founded by a people and culture that not only did not allow slavery but in every way were hostile to the practice.
Conscious Choice
does more however. In telling the tragic history of the Virginia colony and the rise of slavery there, Zimmerman lays out the proper path for creating healthy societies in places like the Moon and Mars.
"Zimmerman's ground-breaking history provides every future generation the basic framework for establishing new societies on other worlds. We would be wise to heed what he says." —Robert Zubrin, founder of founder of the Mars Society.
All editions are available at Amazon, Barnes & Noble, and all book vendors, with the ebook priced at $5.99 before discount. The ebook can also be purchased direct from my ebook publisher, ebookit, in which case you don't support the big tech companies and I get a bigger cut much sooner.
Autographed printed copies are also available at discount directly from me (hardback $24.95; paperback $14.95; Shipping cost for either: $5.00). Just email me at zimmerman @ nasw dot org.