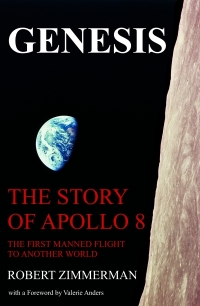 On Christmas Eve 1968 three Americans became the first humans to visit another world. What they did to celebrate was unexpected and profound, and will be remembered throughout all human history. Genesis: the Story of Apollo 8, Robert Zimmerman's classic history of humanity's first journey to another world, tells that story, and it is now available as both an ebook and an audiobook, both with a foreword by Valerie Anders and a new introduction by Robert Zimmerman.
The ebook is available everywhere for $5.99 (before discount) at
amazon
, or direct from my ebook publisher,
ebookit
.
The audiobook is also available at all these vendors, and is also
free with a 30-day trial membership to Audible.
"Not simply about one mission, [Genesis] is also the history of America's quest for the moon... Zimmerman has done a masterful job of tying disparate events together into a solid account of one of America's greatest human triumphs." --San Antonio Express-News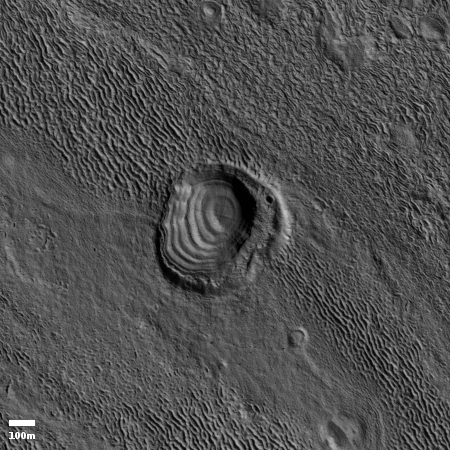 Click for full image.
It it time for two cool Martian images from the high resolution camera on Mars Reconnaissance Orbiter (MRO). Though both show features that are similar and likely had some comparable geological origins, they are located in two very different places on Mars and thus also had very different histories.
What makes them fun is how much both resemble classic tall wedding cakes, though the second has unfortunately fallen down and is no longer eatable.
The first, cropped on the right to post here, was taken on May 18, 2020, and is described by the science team as a "Tall Layered Mesa in Crater in Deuteronilus Mensae." Deuteronilus Mensae is in the transition zone between the northern lowland plains and the southern cratered highlands, and being in the high mid-latitudes (42 degrees north) shows a lot of evidence of buried and eroded glaciers. Many of these glaciers are found inside craters.
What caused this layered mesa however to form is beyond me. It is taller than the crater in which it sits, as well as the surrounding terrain. A glacier would settle into the lowest regions, and would not last if exposed above the rim like this is. Its height suggests that the surrounding terrain was once much higher, and has been eroded away. Yet if so, why does this mesa also sit inside a depression?
The second "wedding cake" is even more intriguing, though less baffling.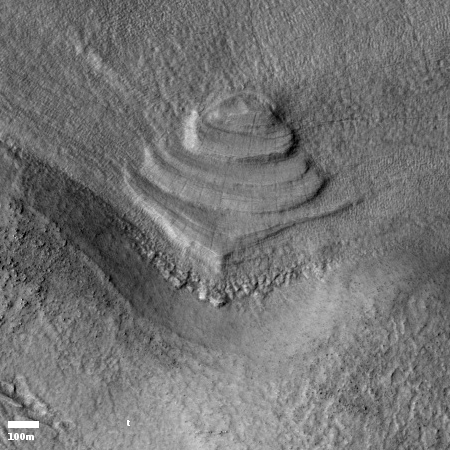 Click for full image.
This image, taken on May 13, 2020, shows a section of layered terrain that appears to have separated from the cliff to the south and fallen over so that the layers are now tilted. This event must have occurred a long time ago, as enough erosion has occurred to soften that cliff. Moreover, in the full image we can see that the fallen section is located inside a large channel that has features suggestive of glacial flow that might have pushed that section away from the cliff over time.
This fallen "wedding cake" is also located in the mid-latitudes (37 degrees south), so to find glacial features here is likely. For example, look closely at the debris pushed up against that southern cliff. Looks like glacial debris to me.
The location however is within Hellas Basin, what I call the basement of Mars because it has the lowest elevation on the planet. Hellas has a lot of strange layered features, the origin of which are still being debated. Wind certainly played a part in forming these layers, but so could have either water or ice.
Readers!
My July fund-raiser for Behind the Black is now over. The support from my readers was unprecedented, making this July campaign the best ever, twice over. What a marvelous way to celebrate the website's tenth anniversary!

Thank you! The number of donations in July, and continuing now at the beginning of August, is too many for me to thank you all personally. Please forgive me by accepting my thank you here, in public, on the website.

If you did not donate or subscribe in July and still wish to, note that the tip jar remains available year round.
Regular readers can support Behind The Black with a contribution via paypal:
If Paypal doesn't work for you, you can support Behind The Black directly by sending your donation by check, payable to Robert Zimmerman, to

Behind The Black
c/o Robert Zimmerman
P.O.Box 1262
Cortaro, AZ 85652