In my leisure reading these days I have been very focused on the life and history of Ulysses S. Grant, the man who more than any single person made it possible for the north to win the Civil War in the 1860s..
More importantly, Grant's unwavering offensive strategy in war, to never retreat, to always take the battle to the enemy, to always demand, as he wrote after winning his first major battle at Donelson, "complete and unconditional surrender," and to always follow up that victory with grace and mercy, became the central tenet of American military and political strategy for the next eighty years, through the end of World War II. It is for this reason Grant in many ways could be considered among the four or five most influential individuals in American history.
In this leisured effort I have read a number of classic histories, including Shelby Foote's three volume The Civil War: a Narrative and Bruce Catton's A Stillness at Appomattox. I also, as I always do when I am trying to learn something about history, read the original sources, and for this Grant's own memoirs came next. (Historians such as I might try to get things right, but for any non-historian it behooves you to read some original sources as well. This will help you distinguish between the historians who succeed in getting it right, and those who don't.)
I then followed most recently with Jean Edward Smith's 2001 biography, Grant. The previous writing had focused only on the Civil War. This book gave me the story before and after.
Grant is a remarkable figure. He appears to have been an astonishngly honest and straightforward man, coldly rational about war and what must be done to win. He also was amazingly unambitious, even as he strove hard to succeed. It was his belief never to aim for a promotion, because he believed that effort would warp his judgment. Instead, he tried to do the best he could at any moment, and hoped that by his good works he would rise.
One story I think not only epitomized the character of Grant, but of the America of his time. After the war and the completion of his two terms as president, he went on a world tour, where he was greeted everywhere with honors and adulation. Upon his arrival in Berlin Chancellor Bismarck immediately invited Grant to come and visit.

[Grant] immediately returned the courtesy and a meeting was arranged for four o'clock that afternoon. Shortly before four, Grant left his apartment at the Kaiserhof, walked out the front door of his hotel, lit a cigar, and like any ordinary tourist, strolled a few blocks down Friedrichstrasse to the Radziwill Palace, taking in the sights as he went. Promptly at four he sauntered nonchalantly into the courtyard, tossed his half-smoked cigar away, and walked toward the front door as if he were going to knock to see if anyone was home. Startled sentries quickly came to present arms, Grant returned the salute, and two liveried servants threw open the palace's massive door to welcome him. Immediately, Grant's visit became the talk of Berlin. The ex-president of the United States had quietly walked over to see the chancellor of Germany. No coach. No team of prancing horses. No outriders, bodyguards, or military escort. It was all very un-European.
One quote by Grant might also teach us something about the worst sorts that unfortunately dominate today's politics. Near the end of his presidency he was repeatedly forced to replace cabinet appointees due to corruption or incompetence, a sign of his own times. As he later said of this time,
The most troublesome men in public life are those over-righteous people who see no motives in other people's actions but evil motives, who believe all public life is corrupt, and nothing is well done unless they do it themselves. They are narrow-headed men, their two eyes so close together that they can look out of the same gimlet hole without winking.
For any American, or anyone for that matter, who wishes to understand the best of this country, reading about Grant is probably one of the first places you should go. He was honest, forthright, courageous, and rational, even as he was also sometimes incredibly naive about others.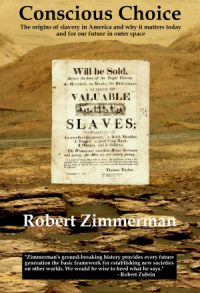 Now available in hardback and paperback as well as ebook!
From the press release: In this ground-breaking new history of early America, historian Robert Zimmerman not only exposes the lie behind The New York Times 1619 Project that falsely claims slavery is central to the history of the United States, he also provides profound lessons about the nature of human societies, lessons important for Americans today as well as for all future settlers on Mars and elsewhere in space.
Conscious Choice: The origins of slavery in America and why it matters today and for our future in outer space
, is a riveting page-turning story that documents how slavery slowly became pervasive in the southern British colonies of North America, colonies founded by a people and culture that not only did not allow slavery but in every way were hostile to the practice.
Conscious Choice
does more however. In telling the tragic history of the Virginia colony and the rise of slavery there, Zimmerman lays out the proper path for creating healthy societies in places like the Moon and Mars.
"Zimmerman's ground-breaking history provides every future generation the basic framework for establishing new societies on other worlds. We would be wise to heed what he says." —Robert Zubrin, founder of founder of the Mars Society.
All editions are available at Amazon, Barnes & Noble, and all book vendors, with the ebook priced at $5.99 before discount. The ebook can also be purchased direct from my ebook publisher, ebookit, in which case you don't support the big tech companies and I get a bigger cut much sooner.
Autographed printed copies are also available at discount directly from me (hardback $24.95; paperback $14.95; Shipping cost for either: $5.00). Just email me at zimmerman @ nasw dot org.