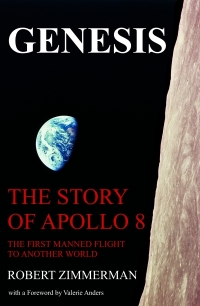 On Christmas Eve 1968 three Americans became the first humans to visit another world. What they did to celebrate was unexpected and profound, and will be remembered throughout all human history. Genesis: the Story of Apollo 8, Robert Zimmerman's classic history of humanity's first journey to another world, tells that story, and it is now available as both an ebook and an audiobook, both with a foreword by Valerie Anders and a new introduction by Robert Zimmerman.
The ebook is available everywhere for $5.99 (before discount) at
amazon
, or direct from my ebook publisher,
ebookit
.
The audiobook is also available at all these vendors, and is also
free with a 30-day trial membership to Audible.
"Not simply about one mission, [Genesis] is also the history of America's quest for the moon... Zimmerman has done a masterful job of tying disparate events together into a solid account of one of America's greatest human triumphs." --San Antonio Express-News
In my leisure reading these days I have been very focused on the life and history of Ulysses S. Grant, the man who more than any single person made it possible for the north to win the Civil War in the 1860s..
More importantly, Grant's unwavering offensive strategy in war, to never retreat, to always take the battle to the enemy, to always demand, as he wrote after winning his first major battle at Donelson, "complete and unconditional surrender," and to always follow up that victory with grace and mercy, became the central tenet of American military and political strategy for the next eighty years, through the end of World War II. It is for this reason Grant in many ways could be considered among the four or five most influential individuals in American history.
In this leisured effort I have read a number of classic histories, including Shelby Foote's three volume The Civil War: a Narrative and Bruce Catton's A Stillness at Appomattox. I also, as I always do when I am trying to learn something about history, read the original sources, and for this Grant's own memoirs came next. (Historians such as I might try to get things right, but for any non-historian it behooves you to read some original sources as well. This will help you distinguish between the historians who succeed in getting it right, and those who don't.)
I then followed most recently with Jean Edward Smith's 2001 biography, Grant. The previous writing had focused only on the Civil War. This book gave me the story before and after.
Grant is a remarkable figure. He appears to have been an astonishngly honest and straightforward man, coldly rational about war and what must be done to win. He also was amazingly unambitious, even as he strove hard to succeed. It was his belief never to aim for a promotion, because he believed that effort would warp his judgment. Instead, he tried to do the best he could at any moment, and hoped that by his good works he would rise.
One story I think not only epitomized the character of Grant, but of the America of his time. After the war and the completion of his two terms as president, he went on a world tour, where he was greeted everywhere with honors and adulation. Upon his arrival in Berlin Chancellor Bismarck immediately invited Grant to come and visit.

[Grant] immediately returned the courtesy and a meeting was arranged for four o'clock that afternoon. Shortly before four, Grant left his apartment at the Kaiserhof, walked out the front door of his hotel, lit a cigar, and like any ordinary tourist, strolled a few blocks down Friedrichstrasse to the Radziwill Palace, taking in the sights as he went. Promptly at four he sauntered nonchalantly into the courtyard, tossed his half-smoked cigar away, and walked toward the front door as if he were going to knock to see if anyone was home. Startled sentries quickly came to present arms, Grant returned the salute, and two liveried servants threw open the palace's massive door to welcome him. Immediately, Grant's visit became the talk of Berlin. The ex-president of the United States had quietly walked over to see the chancellor of Germany. No coach. No team of prancing horses. No outriders, bodyguards, or military escort. It was all very un-European.
One quote by Grant might also teach us something about the worst sorts that unfortunately dominate today's politics. Near the end of his presidency he was repeatedly forced to replace cabinet appointees due to corruption or incompetence, a sign of his own times. As he later said of this time,
The most troublesome men in public life are those over-righteous people who see no motives in other people's actions but evil motives, who believe all public life is corrupt, and nothing is well done unless they do it themselves. They are narrow-headed men, their two eyes so close together that they can look out of the same gimlet hole without winking.
For any American, or anyone for that matter, who wishes to understand the best of this country, reading about Grant is probably one of the first places you should go. He was honest, forthright, courageous, and rational, even as he was also sometimes incredibly naive about others.
Readers!
My July fund-raiser for Behind the Black is now over. The support from my readers was unprecedented, making this July campaign the best ever, twice over. What a marvelous way to celebrate the website's tenth anniversary!

Thank you! The number of donations in July, and continuing now at the beginning of August, is too many for me to thank you all personally. Please forgive me by accepting my thank you here, in public, on the website.

If you did not donate or subscribe in July and still wish to, note that the tip jar remains available year round.
Regular readers can support Behind The Black with a contribution via paypal:
If Paypal doesn't work for you, you can support Behind The Black directly by sending your donation by check, payable to Robert Zimmerman, to

Behind The Black
c/o Robert Zimmerman
P.O.Box 1262
Cortaro, AZ 85652