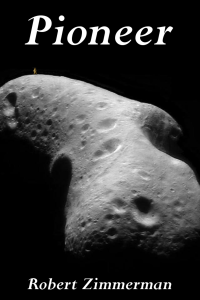 From the press release: From the moment he is handed a possibility of making the first alien contact, Saunders Maxwell decides he will do it, even if doing so takes him through hell and back.
Unfortunately, that is exactly where that journey takes him.
The vision that Zimmerman paints of vibrant human colonies on the Moon, Mars, the asteroids, and beyond, indomitably fighting the harsh lifeless environment of space to build new societies, captures perfectly the emerging space race we see today.
He also captures in Pioneer the heart of the human spirit, willing to push forward no matter the odds, no matter the cost. It is that spirit that will make the exploration of the heavens possible, forever, into the never-ending future.
Available everywhere for $3.99 (before discount) at
amazon
,
Barnes & Noble
, all ebook vendors, or direct from the ebook publisher,
ebookit
.
Treaty language being written at a United Nations conference on biodiversity is so vague it threatens to bar almost all new development. Here is the language, via Science:
8 (w) Ensure, in line and consistent with decision IX/16 C, on ocean
fertilisation and biodiversity and climate change, in the absence of science-based, global, transparent and effective control and regulatory mechanisms for geo-engineering, and in accordance with the precautionary approach and Article 14 of the Convention, that no climate-related geoengineering activities (1) that may affect biodiversity take place, until there is an adequate scientific basis on which to justify such activities and appropriate consideration of the associated risks for the environment and biodiversity and associated social, economic and cultural impacts, with the exception of small scale scientific research studies that would be conducted in a controlled setting in accordance with Article 3 of the Convention, and only if they are justified by the need to gather specific scientific data and are subject to a thorough prior assessment of the potential impacts on the environment.

(1) Without prejudice to future deliberations on the definition of geo-engineering activities, understanding that any technologies that deliberately reduce solar insolation or increase carbon sequestration from the atmosphere on a large scale that may affect biodiversity (excluding carbon capture and storage from fossil fuels when it captures carbon dioxide before it is released to the atmosphere) should be considered as forms of geoengineering which are relevant to the Convention on Biological Diversity until a more precise definition can be developed. Noting that solar insolation is defined as a measure of solar radiation energy received on a given surface area in a given hour and that carbon sequestration is defined as the process of increasing the carbon contact of a reservoir/pool other than the atmosphere. [emphasis mine]
This language is so broad that, if agreed to by the United States, it could easily put almost any activity that affects the environment, including technology, business, property, recreation, or practically anything at all, under the control of UN regulators.
But wait, there's more. The goal of this UN conference, to quote their own webpage, is to achieve "a significant reduction of the current rate of biodiversity loss at the global, regional and national level as a contribution to poverty alleviation and to the benefit of all life on Earth." Obviously, this UN group is not merely interested in protecting the biodiversity of life on Earth, but to also redistribute the wealth so as to help poorer nations.
God help us if our government agrees to this.
Readers!
Every July, to celebrate the anniversary of the start of Behind the Black in 2010, I hold a month-long fund-raising campaign to make it possible for me to continue my work here for another year.

This year's fund-raising drive however is more significant in that it is also the 10th anniversary of this website's founding. It is hard to believe, but I have been doing this for a full decade, during which I have written more than 22,000 posts, of which more than 1,000 were essays and almost 2,600 were evening pauses.

This year's fund drive is also more important because of the growing intolerance of free speech and dissent in American culture. Increasingly people who don't like what they read are blatantly acting to blackball sites like mine. I have tried to insulate myself from this tyrannical effort by not depending on Google advertising or cross-posts Facebook or Twitter. Though this prevents them from having a hold on me, it also acts to limit my exposure.

Therefore, I hope you will please consider donating to Behind the Black, by giving either a one-time contribution or a regular subscription, as outlined in the tip jar below. Your support will allow me to continue covering science and culture as I have for the past twenty years, independent and free from any outside influence.
Regular readers can support Behind The Black with a contribution via paypal:
If Paypal doesn't work for you, you can support Behind The Black directly by sending your donation by check, payable to Robert Zimmerman, to

Behind The Black
c/o Robert Zimmerman
P.O.Box 1262
Cortaro, AZ 85652