No posting today, as I am leaving home at 6:30 am with several cavers for a day trip to a cave in the Chiricahua Mountains in southeast Arizona. The drive one way is about three and a half hours, so doing this as a day trip will likely break what I like to call Zimmerman's law: "The cave time must exceed the drive time."
However, when I first visited Tucson last winter and mentioned I might move here, the local cavers asked if I'd be interested in being the cartographer of this particular cave and help them get a project started to survey it. Three previous attempts to survey it were never completed, so no good map exists. And since I have recently completed two significant cave maps of two important West Virginia caves (see monographs 3 and 4 on this page) and am without a map project at the moment, how could I say no? Tomorrow's trip is my first visit to the cave in preparation for getting the survey project off the ground in January.
Anyway, I will be back late, and will return to the computer on Saturday. For everyone, have a Merry Christmas weekend!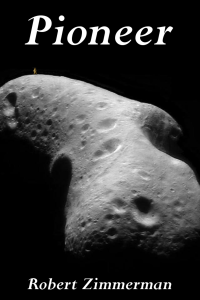 From the press release: From the moment he is handed a possibility of making the first alien contact, Saunders Maxwell decides he will do it, even if doing so takes him through hell and back.
Unfortunately, that is exactly where that journey takes him. The vision that Zimmerman paints of vibrant human colonies on the Moon, Mars, the asteroids, and beyond, indomitably fighting the harsh lifeless environment of space to build new societies, captures perfectly the emerging space race we see today. He also captures in Pioneer the heart of the human spirit, willing to push forward no matter the odds, no matter the cost. It is that spirit that will make the exploration of the heavens possible, forever, into the never-ending future. Available everywhere for $3.99 (before discount) at
amazon
,
Barnes & Noble
, all ebook vendors, or direct from the ebook publisher,
ebookit
. And if you buy it from
ebookit
you don't support the big tech companies and I get a bigger cut much sooner.