Readers!
Scroll down to read this post.
For many reasons,
mostly political but partly ethical
, I do not use Google, Facebook, Twitter. They practice corrupt business policies, while targeting conservative websites for censoring, facts repeatedly
confirmed
by news stories and by my sense that Facebook has taken action to prevent my readers from recommending Behind the Black to their friends.
Thus, I must have your direct support to keep this webpage alive. Not only does the money pay the bills, it gives me the freedom to speak honestly about science and culture,
instead of being forced to write it as others demand.
Please consider donating by giving either a one-time contribution or a regular subscription, as outlined in the tip jar below.
Regular readers can support Behind The Black with a contribution via paypal:
If Paypal doesn't work for you, you can support Behind The Black directly by sending your donation by check, payable to Robert Zimmerman, to

Behind The Black
c/o Robert Zimmerman
P.O.Box 1262
Cortaro, AZ 85652

You can also support me by buying one of my books, as noted in the boxes interspersed throughout the webpage. And if you buy the books through the ebookit links, I get a larger cut and I get it sooner.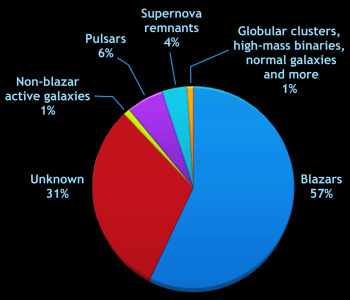 NASA's Fermi Gamma-Ray Telescope today released an updated catalog of the last two years of its survey of the sky at high energy emissions. All told, there are 1873 objects in the catalog, more than half of which are supermassive black holes at the center of distant galaxies. You can see this all-sky map below the fold.
Many of the objects are quite familiar, such as the Crab Nebula, the remnant of a supernova that exploded a little less than a thousand years ago.
For decades, most astronomers regarded the Crab Nebula as the steadiest beacon at X-ray energies. But data from several orbiting instruments — including Fermi's Gamma-ray Burst Monitor — now show unexpected variations. Astronomers have shown that since 2008, the nebula has faded by 7 percent at high energies, a reduction likely tied to the environment around its central neutron star.

Since 2007, Fermi and the Italian Space Agency's AGILE satellite have detected several short-lived gamma-ray flares at energies hundreds of times higher than the nebula's observed X-ray variations. In April, the satellites detected two of the most powerful yet recorded. To account for these "superflares," scientists say that electrons near the pulsar must be accelerated to energies a thousand trillion times greater than that of visible light — and far beyond what can be achieved by the Large Hadron Collider near Geneva, Switzerland, now the most powerful particle accelerator on Earth.
What I, and many astronomers, find even most interesting about this catalog, however, is the large number of completely mysterious objects scattered across the sky, objects that emit powerful gamma rays but are not visible in any other wavelengths. All told, these unidentified objects comprise almost one third of the entire catalog.

Since astronomers cannot see these objects in visible light, they cannot get a useful spectrum for them, which means there is no way to measure their approximate distance. While some are in the plane of the galaxy and are thus likely to be local, many are seen high above the plane, and could reside in the galaxy's halo, or be distant objects millions or even billions of light years away. Without a visible identification it is impossible to know.
Below is the full sky map of Fermi's catalog. Note how most of the objects are in the plane of the galaxy, meaning they likely part of our galaxy.