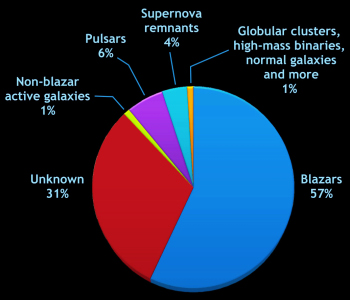 NASA's Fermi Gamma-Ray Telescope today released an updated catalog of the last two years of its survey of the sky at high energy emissions. All told, there are 1873 objects in the catalog, more than half of which are supermassive black holes at the center of distant galaxies. You can see this all-sky map below the fold.
Many of the objects are quite familiar, such as the Crab Nebula, the remnant of a supernova that exploded a little less than a thousand years ago.
For decades, most astronomers regarded the Crab Nebula as the steadiest beacon at X-ray energies. But data from several orbiting instruments — including Fermi's Gamma-ray Burst Monitor — now show unexpected variations. Astronomers have shown that since 2008, the nebula has faded by 7 percent at high energies, a reduction likely tied to the environment around its central neutron star.

Since 2007, Fermi and the Italian Space Agency's AGILE satellite have detected several short-lived gamma-ray flares at energies hundreds of times higher than the nebula's observed X-ray variations. In April, the satellites detected two of the most powerful yet recorded. To account for these "superflares," scientists say that electrons near the pulsar must be accelerated to energies a thousand trillion times greater than that of visible light — and far beyond what can be achieved by the Large Hadron Collider near Geneva, Switzerland, now the most powerful particle accelerator on Earth.
What I, and many astronomers, find even most interesting about this catalog, however, is the large number of completely mysterious objects scattered across the sky, objects that emit powerful gamma rays but are not visible in any other wavelengths. All told, these unidentified objects comprise almost one third of the entire catalog.

Since astronomers cannot see these objects in visible light, they cannot get a useful spectrum for them, which means there is no way to measure their approximate distance. While some are in the plane of the galaxy and are thus likely to be local, many are seen high above the plane, and could reside in the galaxy's halo, or be distant objects millions or even billions of light years away. Without a visible identification it is impossible to know.
Below is the full sky map of Fermi's catalog. Note how most of the objects are in the plane of the galaxy, meaning they likely part of our galaxy.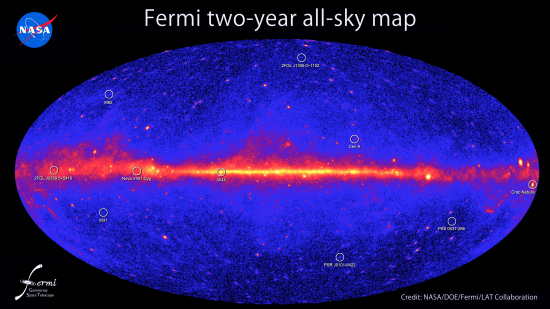 Readers!
I must unfortunately ask you for your financial support because I do not depend on ads and rely entirely on the generosity of readers to keep Behind the Black running. You can either make a one time donation for whatever amount you wish, or you sign up for a monthly subscription ranging from $2 to $15 through Paypal or $3 to $50 through Patreon.
Your support will allow me to continue covering science and culture as I have for the past twenty years, independent and free from any outside influence.
Your support is even more essential to me because I not only keep this site free from advertisements, I do not use the corrupt social media companies like Google, Twitter, and Facebook to promote my work. I depend wholly on the direct support of my readers.
You can provide that support to Behind The Black with a contribution via Patreon or PayPal. To use Patreon, go to my website there and pick one of five monthly subscription amounts, or by making a one-time donation. For PayPal click one of the following buttons:

If Patreon or Paypal don't work for you, you can support Behind The Black directly by sending your donation by check, payable to Robert Zimmerman, to


Behind The Black
c/o Robert Zimmerman
P.O.Box 1262
Cortaro, AZ 85652


Or you can donate by using Zelle through your bank. You will need to give my name and email address (found at the bottom of the "About" page). The best part of this electronic option is that no fees will be deducted! What you donate will be what I receive.