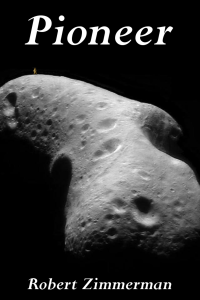 From the press release: From the moment he is handed a possibility of making the first alien contact, Saunders Maxwell decides he will do it, even if doing so takes him through hell and back.
Unfortunately, that is exactly where that journey takes him.
The vision that Zimmerman paints of vibrant human colonies on the Moon, Mars, the asteroids, and beyond, indomitably fighting the harsh lifeless environment of space to build new societies, captures perfectly the emerging space race we see today.
He also captures in Pioneer the heart of the human spirit, willing to push forward no matter the odds, no matter the cost. It is that spirit that will make the exploration of the heavens possible, forever, into the never-ending future.
Available everywhere for $3.99 (before discount) at
amazon
,
Barnes & Noble
, all ebook vendors, or direct from the ebook publisher,
ebookit
.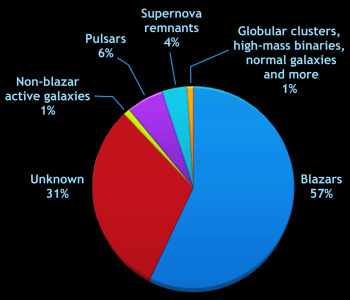 NASA's Fermi Gamma-Ray Telescope today released an updated catalog of the last two years of its survey of the sky at high energy emissions. All told, there are 1873 objects in the catalog, more than half of which are supermassive black holes at the center of distant galaxies. You can see this all-sky map below the fold.
Many of the objects are quite familiar, such as the Crab Nebula, the remnant of a supernova that exploded a little less than a thousand years ago.
For decades, most astronomers regarded the Crab Nebula as the steadiest beacon at X-ray energies. But data from several orbiting instruments — including Fermi's Gamma-ray Burst Monitor — now show unexpected variations. Astronomers have shown that since 2008, the nebula has faded by 7 percent at high energies, a reduction likely tied to the environment around its central neutron star.

Since 2007, Fermi and the Italian Space Agency's AGILE satellite have detected several short-lived gamma-ray flares at energies hundreds of times higher than the nebula's observed X-ray variations. In April, the satellites detected two of the most powerful yet recorded. To account for these "superflares," scientists say that electrons near the pulsar must be accelerated to energies a thousand trillion times greater than that of visible light — and far beyond what can be achieved by the Large Hadron Collider near Geneva, Switzerland, now the most powerful particle accelerator on Earth.
What I, and many astronomers, find even most interesting about this catalog, however, is the large number of completely mysterious objects scattered across the sky, objects that emit powerful gamma rays but are not visible in any other wavelengths. All told, these unidentified objects comprise almost one third of the entire catalog.

Since astronomers cannot see these objects in visible light, they cannot get a useful spectrum for them, which means there is no way to measure their approximate distance. While some are in the plane of the galaxy and are thus likely to be local, many are seen high above the plane, and could reside in the galaxy's halo, or be distant objects millions or even billions of light years away. Without a visible identification it is impossible to know.
Below is the full sky map of Fermi's catalog. Note how most of the objects are in the plane of the galaxy, meaning they likely part of our galaxy.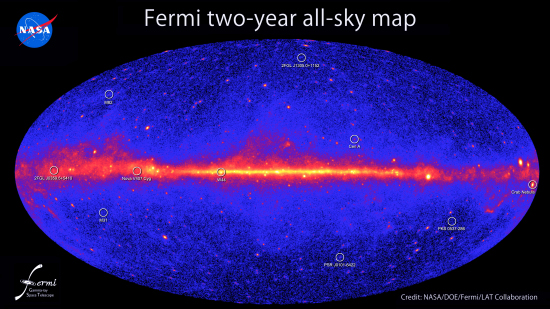 Readers!
Every July, to celebrate the anniversary of the start of Behind the Black in 2010, I hold a month-long fund-raising campaign to make it possible for me to continue my work here for another year.

This year's fund-raising drive however is more significant in that it is also the 10th anniversary of this website's founding. It is hard to believe, but I have been doing this for a full decade, during which I have written more than 22,000 posts, of which more than 1,000 were essays and almost 2,600 were evening pauses.

This year's fund drive is also more important because of the growing intolerance of free speech and dissent in American culture. Increasingly people who don't like what they read are blatantly acting to blackball sites like mine. I have tried to insulate myself from this tyrannical effort by not depending on Google advertising or cross-posts Facebook or Twitter. Though this prevents them from having a hold on me, it also acts to limit my exposure.

Therefore, I hope you will please consider donating to Behind the Black, by giving either a one-time contribution or a regular subscription, as outlined in the tip jar below. Your support will allow me to continue covering science and culture as I have for the past twenty years, independent and free from any outside influence.
Regular readers can support Behind The Black with a contribution via paypal:
If Paypal doesn't work for you, you can support Behind The Black directly by sending your donation by check, payable to Robert Zimmerman, to

Behind The Black
c/o Robert Zimmerman
P.O.Box 1262
Cortaro, AZ 85652