Please consider donating to Behind the Black, by giving either a one-time contribution or a regular subscription, as outlined in the tip jar below. Your support will allow me to continue covering science and culture as I have for the past twenty years, independent and free from any outside influence.
Regular readers can support Behind The Black with a contribution via paypal:
If Paypal doesn't work for you, you can support Behind The Black directly by sending your donation by check, payable to Robert Zimmerman, to

Behind The Black
c/o Robert Zimmerman
P.O.Box 1262
Cortaro, AZ 85652

NOAA's Space Weather Prediction Center today published its monthly update of the Sun's developing sunspot cycle, showing the slow rise in sunspots in comparison with the consensis prediction made by the solar science community in May 2009.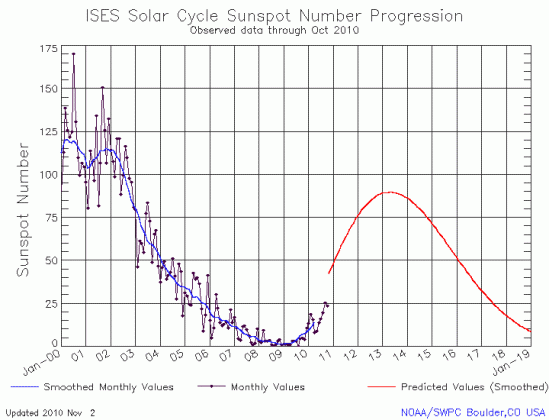 Unlike October graph, which showed a clear jump in sunspot activity, this November update shows that the rise in sunspot numbers has once again slowed down. As I've noted repeatedly, these numbers suggest that we are heading for the weakest solar maximum in two hundred years, far below predictions. And when that last happened, around 1810, it was called the Dalton minimum and the Earth experienced one of its coldest periods in many many decades.