Readers!
For many reasons,
mostly political but partly ethical
, I do not use Google, Facebook, Twitter. They practice corrupt business policies, while targeting conservative websites for censoring, facts repeatedly
confirmed
by news stories and by my sense that Facebook has taken action to prevent my readers from recommending Behind the Black to their friends.
Thus, I must have your direct support to keep this webpage alive. Not only does the money pay the bills, it gives me the freedom to speak honestly about science and culture,
instead of being forced to write it as others demand.
Please consider donating by giving either a one-time contribution or a regular subscription, as outlined in the tip jar below.
Regular readers can support Behind The Black with a contribution via paypal:
If Paypal doesn't work for you, you can support Behind The Black directly by sending your donation by check, payable to Robert Zimmerman, to

Behind The Black
c/o Robert Zimmerman
P.O.Box 1262
Cortaro, AZ 85652

You can also support me by buying one of my books, as noted in the boxes interspersed throughout the webpage. And if you buy the books through the ebookit links, I get a larger cut and I get it sooner.
NOAA's Space Weather Prediction Center today published its monthly update of the Sun's developing sunspot cycle, showing the slow rise in sunspots in comparison with the consensis prediction made by the solar science community in May 2009.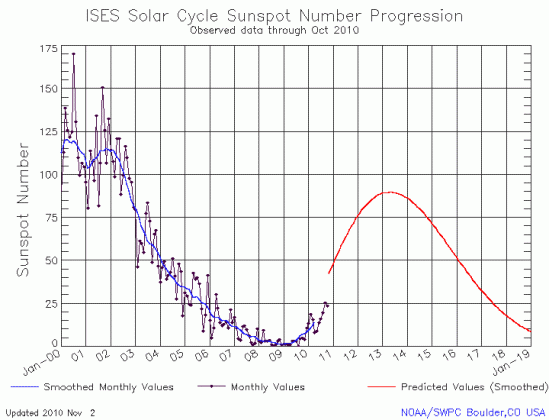 Unlike October graph, which showed a clear jump in sunspot activity, this November update shows that the rise in sunspot numbers has once again slowed down. As I've noted repeatedly, these numbers suggest that we are heading for the weakest solar maximum in two hundred years, far below predictions. And when that last happened, around 1810, it was called the Dalton minimum and the Earth experienced one of its coldest periods in many many decades.