NASA has released an update summarizing what scientists have found since Dawn went into orbit around Vesta in July. The video below, compiled from images Dawn has taken, gives a nice visual overview. The most interesting big feature, understated by the video, is the series of grooves that appear to encircle the asteroid's equator. To my eye it almost looks like Vesta was once two asteroids that got merged into one, with these grooves indicating the weld point.
The direct link to the video can be found here.
Embedded video from
NASA Jet Propulsion Laboratory California Institute of Technology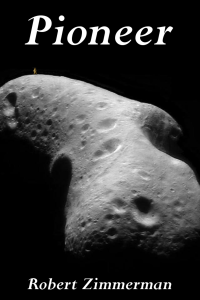 From the press release: From the moment he is handed a possibility of making the first alien contact, Saunders Maxwell decides he will do it, even if doing so takes him through hell and back.
Unfortunately, that is exactly where that journey takes him. The vision that Zimmerman paints of vibrant human colonies on the Moon, Mars, the asteroids, and beyond, indomitably fighting the harsh lifeless environment of space to build new societies, captures perfectly the emerging space race we see today. He also captures in Pioneer the heart of the human spirit, willing to push forward no matter the odds, no matter the cost. It is that spirit that will make the exploration of the heavens possible, forever, into the never-ending future. Available everywhere for $3.99 (before discount) at
amazon
,
Barnes & Noble
, all ebook vendors, or direct from the ebook publisher,
ebookit
. And if you buy it from
ebookit
you don't support the big tech companies and I get a bigger cut much sooner.