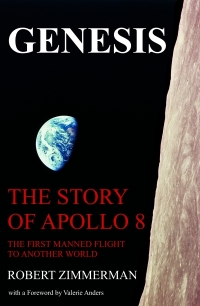 On Christmas Eve 1968 three Americans became the first humans to visit another world. What they did to celebrate was unexpected and profound, and will be remembered throughout all human history. Genesis: the Story of Apollo 8, Robert Zimmerman's classic history of humanity's first journey to another world, tells that story, and it is now available as both an ebook and an audiobook, both with a foreword by Valerie Anders and a new introduction by Robert Zimmerman.
The ebook is available everywhere for $5.99 (before discount) at
amazon
, or direct from my ebook publisher,
ebookit
.
The audiobook is also available at all these vendors, and is also
free with a 30-day trial membership to Audible.
"Not simply about one mission, [Genesis] is also the history of America's quest for the moon... Zimmerman has done a masterful job of tying disparate events together into a solid account of one of America's greatest human triumphs." --San Antonio Express-News
These four stories, all in today's news, all suggest that the heart of the Occupy Wall Street movement is strongly intolerant, filled with angry hatred, and prone to violence. Sadly, they appear to a small subset of a much larger sampling of similar stories.
In Oakland Occupy protesters have withdrawn a resolution to remain peaceful.
A small number of the protesters have openly called for the use of violence as a tactic to get their message out.
In Berkley, dozens of Occupy protesters were arrested yesterday. The cause:
The university reported earlier that an administrator had told the protesters they could stay around the clock for a week, but only if they didn't pitch tents or use stoves or other items that would suggest people were sleeping there. The protesters voted not to comply with the demand and to go ahead with setting up a tent site they dubbed "Occupy Cal" to protest financial policies they blame for causing deep cuts in higher education spending.
In New York, a man was arrested for assaulting a paramedic and breaking his leg Wednesday night.
And finally, there is this eight minute video, where a Occupy Portland protester curses and threatens a news crew repeatedly until the police finally arrive to escort him away.
Readers!
My July fund-raiser for Behind the Black is now over. The support from my readers was unprecedented, making this July campaign the best ever, twice over. What a marvelous way to celebrate the website's tenth anniversary!

Thank you! The number of donations in July, and continuing now at the beginning of August, is too many for me to thank you all personally. Please forgive me by accepting my thank you here, in public, on the website.

If you did not donate or subscribe in July and still wish to, note that the tip jar remains available year round.
Regular readers can support Behind The Black with a contribution via paypal:
If Paypal doesn't work for you, you can support Behind The Black directly by sending your donation by check, payable to Robert Zimmerman, to

Behind The Black
c/o Robert Zimmerman
P.O.Box 1262
Cortaro, AZ 85652