These four stories, all in today's news, all suggest that the heart of the Occupy Wall Street movement is strongly intolerant, filled with angry hatred, and prone to violence. Sadly, they appear to a small subset of a much larger sampling of similar stories.
In Oakland Occupy protesters have withdrawn a resolution to remain peaceful.
A small number of the protesters have openly called for the use of violence as a tactic to get their message out.
In Berkley, dozens of Occupy protesters were arrested yesterday. The cause:
The university reported earlier that an administrator had told the protesters they could stay around the clock for a week, but only if they didn't pitch tents or use stoves or other items that would suggest people were sleeping there. The protesters voted not to comply with the demand and to go ahead with setting up a tent site they dubbed "Occupy Cal" to protest financial policies they blame for causing deep cuts in higher education spending.
In New York, a man was arrested for assaulting a paramedic and breaking his leg Wednesday night.
And finally, there is this eight minute video, where a Occupy Portland protester curses and threatens a news crew repeatedly until the police finally arrive to escort him away.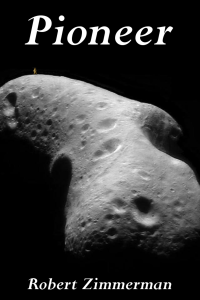 From the press release: From the moment he is handed a possibility of making the first alien contact, Saunders Maxwell decides he will do it, even if doing so takes him through hell and back.
Unfortunately, that is exactly where that journey takes him.
The vision that Zimmerman paints of vibrant human colonies on the Moon, Mars, the asteroids, and beyond, indomitably fighting the harsh lifeless environment of space to build new societies, captures perfectly the emerging space race we see today.
He also captures in Pioneer the heart of the human spirit, willing to push forward no matter the odds, no matter the cost. It is that spirit that will make the exploration of the heavens possible, forever, into the never-ending future.
Available everywhere for $3.99 (before discount) at
amazon
,
Barnes & Noble
, all ebook vendors, or direct from the ebook publisher,
ebookit
. And if you buy it from
ebookit
you don't support the big tech companies and I get a bigger cut much sooner.