Two stories today clearly illustrate the oppressive nature of the left. They don't wish to debate and persuade. They want to impose their will on the rest of us, by force if necessary.
First there's this: Occupy Wall Street has paid the bail for the OWS demonstrator who threatened to burn down New York and throw Molotov cocktails into the windows at Macy's.
A week ago he wanted to toss Molotov cocktails at Macy's, but Tuesday he was back at it, mixing it up in Zuccotti Park. The Daily News snapped photos of Occupy Wall Street nut case Nkrumah Tinsley, 29, prancing around after the movement coughed up $7,500 for his bail, his lawyer, Pierre Sussman said.
One of their demonstrators publicly admits he wants to destroy property and commit violence, and the OWS movement backs him to the hilt.
Then there's this story:

Occupy Wall Street wants to shut down shopping on the Friday after Thanksgiving.
Some demonstrators are planning to occupy retailers on Black Friday to protest "the business that are in the pockets of Wall Street." Organizers are encouraging consumers to either occupy or boycott retailers that are publicly traded, according to the Stop Black Friday website. The goal of the movement is to impact the profits of major corporations this holiday season.
Nor is this effort to interfere with the peaceful activities of others an exception. Since this leftwing protest movement gained momentum two months ago, they have shut down numerous stores and restaurants, vandalized churches and parks, and blocked traffic and the free flow of business wherever they have gone.
And the left accused the tea party protesters of violence? Practically everything these demonstrators have done has been in violation of freedom and the rights of others. The tea partiers routinely left their protest sites cleaner than they found them, and the only documented violence that occurred at any tea party protest was committed by individuals who opposed the protests and wanted to shut them down.
To me, the worst aspect of this whole charade is how the left has turned a blind eye to this violence and oppression. It seems to please them, to serve their political interests. For example, elected officials (almost all of whom have been Democrats or liberal) have gone out of their way to support and back the demonstrations, allowing them to gather without permits, insurance, or the required sanitation facilities. These same officials have repeatedly allowed the OWS protesters to break laws with impunity.
Note that these are the same Democratic and liberal politicians who condemned Sarah Palin and the tea party protests back in January, for doing nothing more than peaceable exercising their freedom of speech. Now, when actual violence is committed by leftwing protesters, it is all in good fun, merely a refreshing demonstration of the wonders of democracy.
Bah. These politicians should be thrown out of office, now. Unfortunately, this will probably not happen, because the voters in these blue-state Democratic strongholds seem to support such oppression. They don't like it when others disagree with them, and heartily approve it when such opposition is shut down. Thus, they will be little troubled by the lawless actions of these protesters and the politicians that are supporting them.
They should all be ashamed of themselves.
Update: For more evidence of the oppressive nature of this leftwing movement, see this story: This is what democracy looks like…in hell. In this story certain Occupiers take control of an open mike and prevent anyone from speaking there that they happen to disagree with.
Note that I have attended a number of tea party protests where the mike was open and anyone could talk. In one case a LaRouche supporter rambled on for about ten minutes, advocating bigger government and higher taxes, the absolute opposite of what the protest was about. No one shut him up. We shook our heads in disbelief and disgust, but we also stood there politely, waiting for him to finish.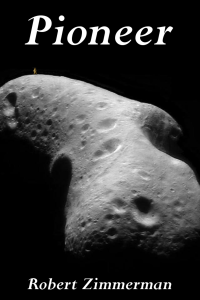 From the press release: From the moment he is handed a possibility of making the first alien contact, Saunders Maxwell decides he will do it, even if doing so takes him through hell and back.
Unfortunately, that is exactly where that journey takes him.
The vision that Zimmerman paints of vibrant human colonies on the Moon, Mars, the asteroids, and beyond, indomitably fighting the harsh lifeless environment of space to build new societies, captures perfectly the emerging space race we see today.
He also captures in Pioneer the heart of the human spirit, willing to push forward no matter the odds, no matter the cost. It is that spirit that will make the exploration of the heavens possible, forever, into the never-ending future.
Available everywhere for $3.99 (before discount) at
amazon
,
Barnes & Noble
, all ebook vendors, or direct from the ebook publisher,
ebookit
. And if you buy it from
ebookit
you don't support the big tech companies and I get a bigger cut much sooner.