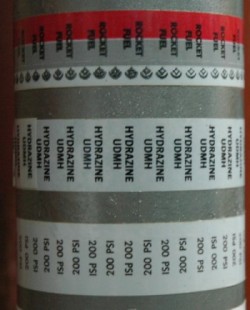 A fuel line for the Titan missile.
Last week my oldest friend Lloyd and his wife Denise came to visit Diane and I here in Tucson. One of Lloyd's requests was to visit the Tucson Missile Museum. This museum is built at the site of one of the now disabled missile silos built in the 1960s as a means for launching nuclear weapons against the Soviet Union. Fifty-four silos total had been built and operated, with eighteen of those silos scattered around the Tucson, Arizona area. When the U.S. signed a nuclear arms treaty with the Soviet Union in the 1980s these silos were then shut down and sold. Some became private residences. Others remain buried and abandoned.
One silo, however, was kept as intact as allowed by treaty and made into a museum in order to preserve this artifact of history. Because Diane and I happen to know Chuck Penson, the archivist at the museum, we were able to arrange an augmented tour of the facility. Below are some of my pictures as Chuck took us down into the deepest bowels of the silo.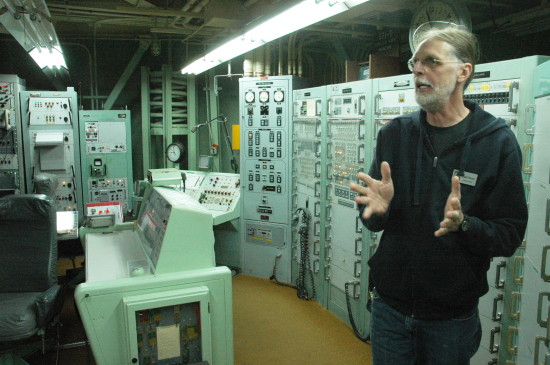 Chuck Penson in the silo control room. It was in this room that an operational crew stood by, twenty-four hours a day, awaiting orders to launch their missile.
The missile used in these silos was the Titan 2 rocket, the same rocket NASA used to launch the astronauts during the Gemini program in the 1960s. To quote the museum website:
Able to launch from its underground silo in just 58 seconds, the Titan II was capable of delivering a 9-megaton nuclear warhead to targets more than 6300 miles (10,000 km) away in about 30 minutes.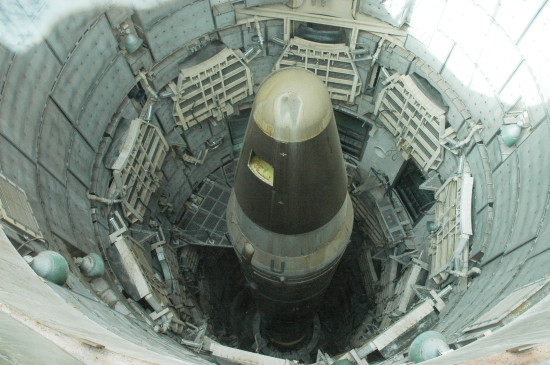 Looking down the silo at the Titan 2 missile
When I interviewed Frank Borman and Jim Lovell for my book, Genesis: the Story of Apollo 8, they both told me that a ride on a Titan 2 was like riding a bucking bull at a rodeo. The missile at the museum is real, though of course it is no longer loaded with any hydrazine fuel, which is extremely toxic.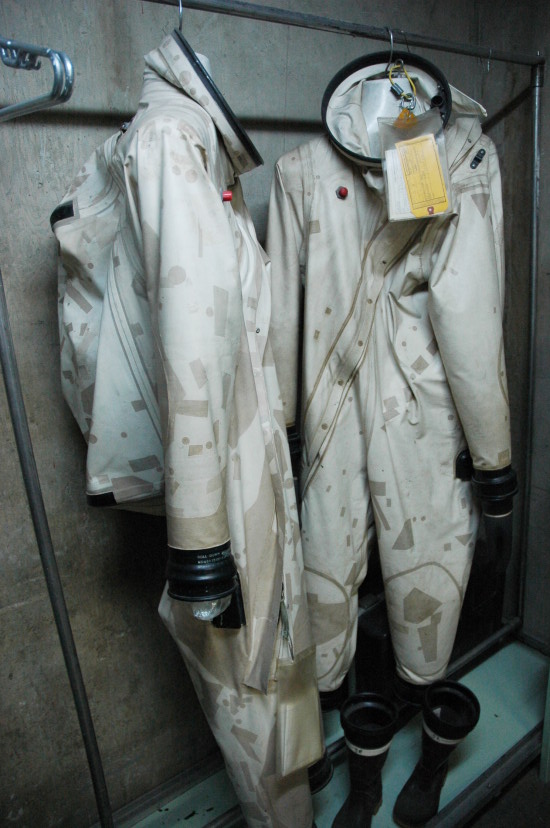 Suits workers used to protect themselves from the hydrazine fuel.
If you look closely at the protective suits, you will notice a lot of patches. Chuck explained that these patches were put on whenever there appeared to be the slightest wear in the suit. Hydrazine is so toxic that no one wanted to wait until a leak actually developed.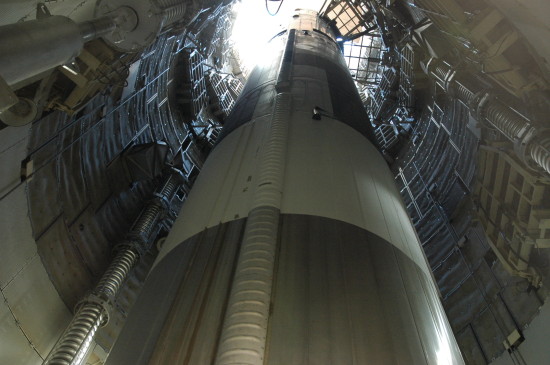 Looking up the silo at the Titan missile.
Though none of these missiles were ever launched as a weapon of war, their construction and operation was a complete success. For more than twenty years they acted as a strong deterrent against Soviet aggression, letting that country's leaders know that if they dared use their nuclear weapons against us, we could respond with devastating force. This policy, dubbed Mutually Assured Destruction, or MAD, seems insane, but it actually is quite rational. The result of this policy was that no nuclear conflict ever took place, with the competition for nuclear strength helping to bring about the eventual collapse of the Soviet dictatorship.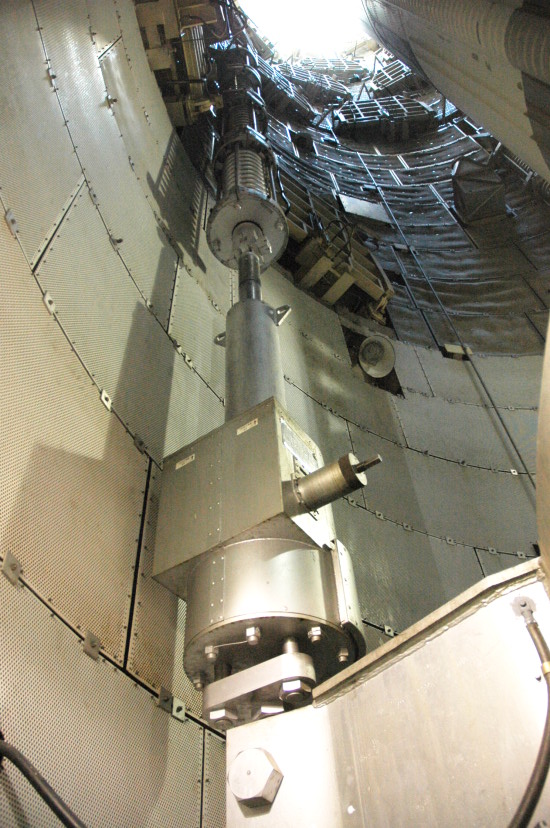 The springs on which the missile was mounted.
In order for the threat of MAD to be effective, the silos had to be able to survive a nuclear attack. Thus, everything there, from the control room to the missile itself, is mounted on springs so that it can ride out the impact of a nuclear bomb. And these springs did work! Though no missile was every launched from an operational silo, every silo was built exactly the same, based on designs developed and tested by the U.S. military. In those tests they did successfully launch a Titan 2 from a silo, unarmed of course.
Sadly, today's new nuclear threat is going to come from the Islamic world and Iran, whose leaders have said that they not only want to have the ability to destroy those they hate, such as Israel and the United States, they also seem eager to see the world cast into chaos and massive destruction. The threat of mutual destruction is likely not to discourage them in the slightest.
Readers!
I must unfortunately ask you for your financial support because I do not depend on ads and rely entirely on the generosity of readers to keep Behind the Black running. You can either make a one time donation for whatever amount you wish, or you sign up for a monthly subscription ranging from $2 to $15 through Paypal or $3 to $50 through Patreon.
Your support will allow me to continue covering science and culture as I have for the past twenty years, independent and free from any outside influence.
Your support is even more essential to me because I not only keep this site free from advertisements, I do not use the corrupt social media companies like Google, Twitter, and Facebook to promote my work. I depend wholly on the direct support of my readers.
You can provide that support to Behind The Black with a contribution via Patreon or PayPal. To use Patreon, go to my website there and pick one of five monthly subscription amounts, or by making a one-time donation. For PayPal click one of the following buttons:

If Patreon or Paypal don't work for you, you can support Behind The Black directly by sending your donation by check, payable to Robert Zimmerman, to


Behind The Black
c/o Robert Zimmerman
P.O.Box 1262
Cortaro, AZ 85652


Or you can donate by using Zelle through your bank. You will need to give my name and email address (found at the bottom of the "About" page). The best part of this electronic option is that no fees will be deducted! What you donate will be what I receive.