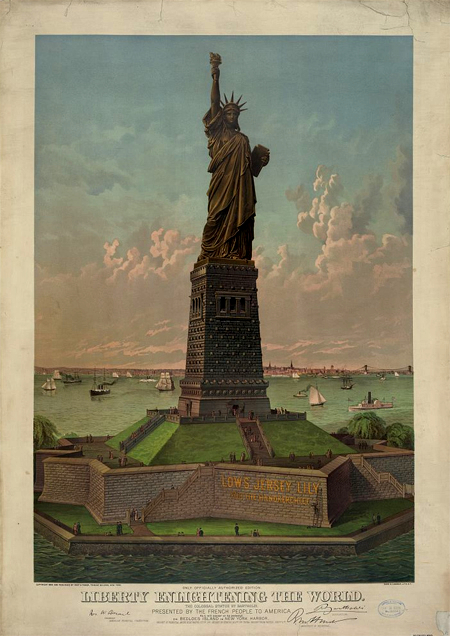 The citizen is sovereign, and your vote demonstrates that power
Below are my election choices in Arizona when I vote on November 8, 2022. Though early voting begins tomorrow in Arizona, on October 12, 2022, I think it utterly foolish to commit my vote even ten seconds early. Too much can happen in the next few weeks. As a citizen it is my responsibility to make these choices with the most information possible, and voting early for no reason but convenience is a dereliction of duty.
Nonetheless, many Arizonians will be voting early by mail — which has been somewhat customary here for more than a decade — so I am posting my preferences now, including my reasoning, to give my readers some help in making their decisions.
Though I am not partisan, and have always distrusted Republicans as much as Democrats, this year my choices are very partisan. The Democratic Party has become very very corrupt. The best thing Americans can do to clean up that party is to throw out as many of its elected officials as possible. At that point the party will be faced with a stark choice: shift gears, change leadership, or die (allowing a new party to replace it). With any of these options, the voters would be provided with a new choice in future elections, coming from a different direction.
I am also making recommendations in connection with statewide and local propositions, several of which are hidden mines designed to eliminate what little election security we presently have. Voters must know this.
Thus, my choices:

State-wide elections
U.S. Senate: Blake Masters, without question.
Masters is conservative, intelligent, and forthright. You might not agree with him on everything, but his willingness to clearly state what he believes in makes him much more likely to follow through once elected.
The present senator, Democrat Mark Kelly, has been a non-entity who simply rubber-stamps every radical policy that the modern bankrupt Democratic Party advocates. He must go. This clip from the debate between these candidates nicely sums things up.
Above all, electing Masters will help take control of Congress from that corrupt Democratic Party while also blocking the bankrupt policies of Joe Biden and the administration state that controls him like a puppet.
Governor: Kari Lake, Republican, without question.
Not only has Lake shown herself to be a courageous, outspoken candidate with a clear, intelligent grasp of the state's biggest problems, her opponent, Democrat Katie Hobbs, has been Arizona's secretary of state and thus in charge of the election system that produced the last few very questionable elections.
To compare these candidates, watch Kari Lake here and here, then watch the clips of Katie Hobbs here. The difference is startling. Hobbs' inability to express any thought coherently is reminiscent of Kamala Harris.
Note also that Hobbs was successfully sued for allowing racial discrimination in her office when she was the Democratic Party leader in the state senate. Like most modern Democrats, she makes believe she believes in equal rights, but is instead really focused on identity politics and judging people by the color of their skin.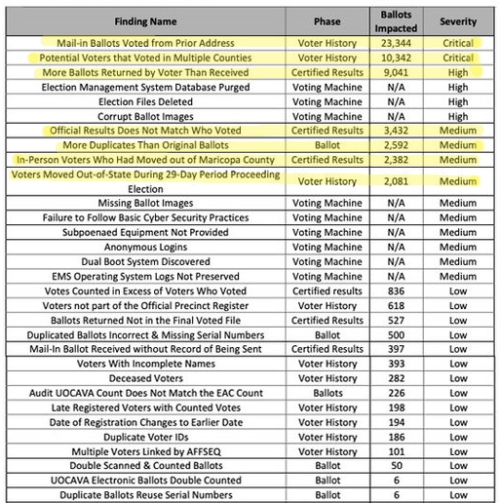 Results of election audit in Maricopa County
Secretary of State: Mark Finchem, without question.
After the 2020 election, Finchem took the lead in pushing for the election audit and several investigations prompted by the questionable results in Arizona. As secretary of state it will be his job to supervisor Arizona's election process, and his goal is to make sure the system is cleaned up. Watch the clip of a Finchem interview at this link to get a good idea of his even-handed and thoughtful approach.
The graph on the right shows the results from the Finchem-supported audit of the votes in Maricopa County (which covers Phoenix). Note the many many problems highlighted in yellow. These issues need to be resolved, and the present secretary of state, Katie Hobbs, has refused to do so. Finchem's focus on election reform suggests he will also take on the stone-walling election officials in Maricopa and get things fixed.
State Attorney General: Abraham Hamadeh, without question
Hamadeh is not a professional politician. He is a former prosecutor as well as a former Army intelligence officer who has been very clear about the failure of the attorney general's office (presently run by a do-nothing Republican) to enforce the law properly. Thus, his background qualifies him for this job perfectly.
State Treasurer: Kimberly Yee
She is the Republican incumbent, and thus is guaranteed to be a better choice than the Democrat. Her history as a long-time member of the establishment is the reason I am less enthused about her.
Superintendent of Public Instruction: Tom Horne, without question
Horne has been outspoken in his opposition to the introduction of critical race theory in the schools. Expect him to push hard against the leftist agenda being pushed by most educators and administrators. He will have a hard fight. His election however would be a major step up, considering his opponent, the incumbent Democrat Kathy Hoffman, has helped introduce critical race theory and the queer agenda into Arizona's schools.
Corporation commissioners (vote for two): Nicholas Myers and Kevin Thompson, without question
The Corporation Commission is the board that regulates the state's electric utilities. Both Myers and Thompson are Republicans and appear to be business-oriented. Their focus will be to make sure Arizonians have power, and at an affordable rate.
Of their Democratic Party opponents, one wants to push solar power, while the other is focused on climate change and the environment. Based on their own positions, it seems they want to turn Arizona into California when it comes to electricity, with frequent blackouts and brownouts and high electric bills. Ugh.
State mine inspector: Paul Marsh
As Republican Marsh is the only candidate, the choice is easy. That the Democrats couldn't even find a qualified candidate for this position that regulates mines — one of Arizona's biggest industries — suggests their professed love of the environment is as shallow as damp sidewalk.
Local elections:
These apply to my specific district, so they of course will only apply to a few of my readers. Nonetheless, I make them public, as they indicate again my overall approach:
Federal House of Representatives: Juan Ciscomani, without question
Ciscomani's campaign has been uninspired, following the standard approaches and imagery normally pushed by establishment Washington political consultants. Nonetheless, he is a Republican, and even if he ends up to be an establishment Republican congressman, that will be far better than the leftist the Democrats are running.
And once again, his election will help keep Congress out of the control of today's corrupt Democratic Party.
State Senator: Thomas Shope, without question
State Representatives (vote for two): Teresa Martinez and Rob Hudelson, without question.
In all three cases, my goal in picking these Republican candidates is to keep Democrats out of office. We need to force a major house-cleaning of the Democratic Party, and the more losses it experiences at all levels of government this year can only help bring that house-cleaning about.
Bond issue for Marana Unified School District #6
From the pamphlet describing the bond issue:
Of the $90 million bond total, $40 million would pay for new school construction, $29.8 million would be spent on campus improvements and renovations for existing schools, $10.9 million would be spent on technology and security upgrades, and $9.4 million for student transportation.
Considering that attendance at public schools has been dropping, and thus the need for new construction will be less, it seems foolish to approve this expensive borrowing at this time. Moreover, government management across the board has been poor. There is enormous waste in the existing budget that could be used for much of this work, instead of borrowing more.
I vote no.
State Propositions:
Constitutional amendments:
At present the Arizona Constitution forbids legislators from overriding any referendums passed by the voters, even if the courts rule a referendum or any part of it is illegal. The bill would give the legislators the power to amend or supersede any part that the courts rule illegal.
There is logic to this amendment, as well as risks. I am of two minds. Right now I am leaning to vote no, but may change my mind in the next few weeks.
Like 128, this proposition would place restrictions on voter initiatives or referendums by requiring them to match the same limits imposed on legislative bills. Each measure must embrace only one subject and that the title of the measure must describe the measure accurately.
I vote yes. This proposition would prevent initiatives with cool-sounding names that often act to do the exact opposite, once passed (think "Patriot Act" and "Inflation Reduction Act"). It would also require voter initiatives to be careful and reasonable.
The goal here is to remove some of the limits placed on the legislature for awarding exemptions to property tax for some classes (such as veterans and their widows). Based on a review of the law, I am leaning towards voting yes, though I might change my mind.
The proposition creates a position of lieutenant governor who would be picked by the candidate for governor and run as a joint candidate, much like the president and vice president do in national elections. The lieutenant governor would then replace the governor should he or she die or can no longer serve. Right now the law has the secretary of state take over, who could be from another party.
I vote yes, without reservations.
Under this proposition, future voter initiatives that propose a new tax must pass by 60% majority.
I vote yes, without reservations. Many of the voter tax initiatives in this state are written and promoted by school unions that want more money for themselves. They dress the initiative as "more money for schools" when it really is more money for them. (See the Marana bond issue above). It should be harder for them to do this.
Citizen initiatives:
Based on who endorses this proposition, it appears to be a boondoggle to funnel government money to the healthcare industry and unions. As noted by the very conservative free-enterprise Goldwater Institute, this measure "is funded almost exclusively by California unions [and] will limit the ability of Arizona residents to obtain credit and dramatically increase our interest rates."
I vote no, without reservations.
This proposition is presently under review by the courts, and might be ruled illegal even if it passes. However, as it is written to override recent election reforms passed by the state legislature that were designed to prevent vote tampering and election fraud, the voters should reject it with great enthusiasm, making it unnecessary for the court to do the same.
I vote no, without reservations.
This proposition has similar goals to 210, designed in this case to change the election laws to make it easier to identify and attack anyone who donates to election campaigns.
I vote no, without reservations.
Legislative referrals of new proposed laws:
This initiative is designed to repeal legislation that forbids tuition subsidies to illegal immigrants. It also appears to give illegal immigrants a benefit not given to legal citizens.
I vote no, without reservations.
This proposition will tighten significantly the system of voting by mail. It will require such voters provide strong IDs to make their vote valid.
I vote yes, without reservations.
Basically, this proposition would increase the state's sales tax in order to funnel money to fire departments.
I vote no, without reservations. The state can easily find money for these purposes, out of its present budget. What it needs to do is to better prioritize its spending, eliminating programs that accomplish nothing so that it can increase the budgets of more important agencies.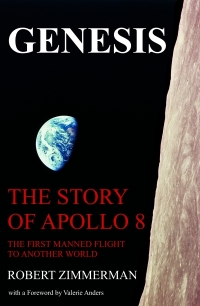 On Christmas Eve 1968 three Americans became the first humans to visit another world. What they did to celebrate was unexpected and profound, and will be remembered throughout all human history. Genesis: the Story of Apollo 8, Robert Zimmerman's classic history of humanity's first journey to another world, tells that story, and it is now available as both an ebook and an audiobook, both with a foreword by Valerie Anders and a new introduction by Robert Zimmerman.
The ebook is available everywhere for $5.99 (before discount) at
amazon
, or direct from my ebook publisher,
ebookit
. If you buy it from
ebookit
you don't support the big tech companies and the author gets a bigger cut much sooner.
The audiobook is also available at all these vendors, and is also
free with a 30-day trial membership to Audible.
"Not simply about one mission, [Genesis] is also the history of America's quest for the moon... Zimmerman has done a masterful job of tying disparate events together into a solid account of one of America's greatest human triumphs."--San Antonio Express-News