This week the American Geophysical Union (AGU) is having its annual fall meeting in San Francisco. Due to the wonders of technology, they are now making their press conferences available to reporters on line. Thus, I will be posting periodic updates after each conference. This will allow my readers to get a heads up on stories they will be seeing in the mainstream press in the next few hours.
Right now they are wrapping up a press conference from the team of the Voyager 1 spacecraft, in which they have described the spacecraft's status.

It appears that for the past two years Voyager 1 has been traveling through what they call the "stagnation region", where the sun's solar wind is battling with the interstellar wind for domination. The data shows chaotic and variable changes in wind speeds from all directions.
The interstellar wind appears to be moving at about 20 kilometers per second, and is coming from the direction of the galactic center, but not from there. The scientists believe this wind is a remnant from a local supernova that took place several million years ago.
Voyager 1 has enough power to function until about 2020. The scientists are very confident that it will reach interstellar space before then, though they recognize that there no guarantees. "It could be a matter of months, or years," noted Edward Stone, Voyager's project scientist.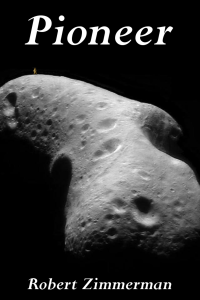 From the press release: From the moment he is handed a possibility of making the first alien contact, Saunders Maxwell decides he will do it, even if doing so takes him through hell and back.
Unfortunately, that is exactly where that journey takes him. The vision that Zimmerman paints of vibrant human colonies on the Moon, Mars, the asteroids, and beyond, indomitably fighting the harsh lifeless environment of space to build new societies, captures perfectly the emerging space race we see today. He also captures in Pioneer the heart of the human spirit, willing to push forward no matter the odds, no matter the cost. It is that spirit that will make the exploration of the heavens possible, forever, into the never-ending future. Available everywhere for $3.99 (before discount) at
amazon
,
Barnes & Noble
, all ebook vendors, or direct from the ebook publisher,
ebookit
. And if you buy it from
ebookit
you don't support the big tech companies and I get a bigger cut much sooner.