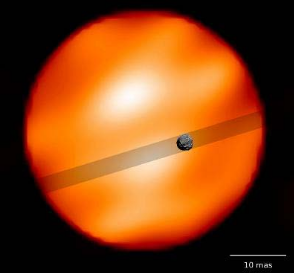 On January 2, 2012, an asteroid is going to transit across the face of Betelgeuse. And if you live in Europe, own a very sensitive telescope, look close and don't blink, you might be able to see it!
This is all according to a preprint paper published today on the Los Alamos astro-ph preprint website, written by scientist Costantino Sigismondi of the Galileo Ferraris Institute and International Center for Relativistic Astrophysics in Rome. You can download the paper here [pdf].
The transit itself will only last 3.6 seconds, and will only be visible along a narrow swath crossing southern India and moving across the Middle East, through parts of Italy, France, and the southwestern most tips of England and Ireland. A map of this path is below the fold.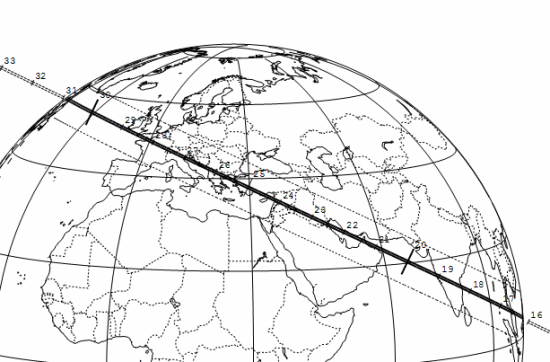 The asteroid, 2005 UW381, is estimated to be a little less than 2 miles wide. As it crosses in front of the star Betelgeuse's magnitude will drop by a whopping 0.01 magnitudes. Though this is a tiny change in magnitude, it is in much greater then the kinds of transits that the Kepler Space Telescope is seeing in space. It is also within the range of a good amateur telescope, properly calibrated.
Because Betelgeuse is relatively nearby (approximately 430 light years) and is quite gigantic (650 times the diameter of the sun), it has the largest angular diameter of any star. It was therefore the first star to be directly imaged, showing a face with mottled appearance that astronomers think is are giant starspots. As a red giant star, Betelgeuse more resembles a giant gasbag, with vast bubbles of material rising upwards to its surface like the bubbles in a simmering pot of tomato sauce. Eventually, the star will use up its fuel and collapse into itself, possibly going supernova.
The asteroid transit next week will be a good way for amateur astronomers to test their equipment in order to be able to do their own observations of some of the more visible extrasolar transits of other stars.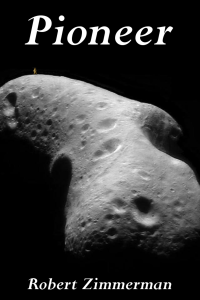 From the press release: From the moment he is handed a possibility of making the first alien contact, Saunders Maxwell decides he will do it, even if doing so takes him through hell and back.
Unfortunately, that is exactly where that journey takes him. The vision that Zimmerman paints of vibrant human colonies on the Moon, Mars, the asteroids, and beyond, indomitably fighting the harsh lifeless environment of space to build new societies, captures perfectly the emerging space race we see today. He also captures in Pioneer the heart of the human spirit, willing to push forward no matter the odds, no matter the cost. It is that spirit that will make the exploration of the heavens possible, forever, into the never-ending future. Available everywhere for $3.99 (before discount) at
amazon
,
Barnes & Noble
, all ebook vendors, or direct from the ebook publisher,
ebookit
. And if you buy it from
ebookit
you don't support the big tech companies and I get a bigger cut much sooner.