A quick holiday fund-raising campaign for Behind the Black!
Scroll down to read this post.
In past years I have managed to avoid asking for donations for Behind the Black during the holiday season. My finances however now compel me to do a short one-week fund-raiser, from November 11 to November 17.
I do not use Twitter for ethical reasons, which I have been told cuts down on traffic to the website. So be it. Furthermore, Facebook has clearly acted in the past two years to limit traffic to Behind the Black, almost certainly for political reasons. So be this as well. Finally, I do not post outside ads, as I have found them annoying to my readers and not that profitable to me.
Therefore, I need to ask for the direct support from my readers. If you like what I do here, please consider contributing, either by making a one-time donation or a monthly subscription, as indicated in the tip jar below.
Regular readers can support Behind The Black with a contribution via paypal:
If Paypal doesn't work for you, you can support Behind The Black directly by sending your donation by check, payable to Robert Zimmerman, to

Behind The Black
c/o Robert Zimmerman
P.O.Box 1262
Cortaro, AZ 85652

Or you could consider purchasing one of my books, as indicated in the boxes scattered throughout the website. My histories of space exploration are award-winning and are aimed for the general public. All are page-turners, and all not only tell the story of the beginning of the human exploration of space, they also help explain why we are where we are today. And I also have a science fiction book available,
Pioneer
, which tells its own exciting story while trying to predict what life in space will be like two hundred years in the future.
Note that for this week only I am also having a sale on the purchase of the last 20 hardbacks of
Leaving Earth
. (Click on the link for more information about the book, which was endorsed by Arthur C. Clarke himself!) This award-winning out-of-print book is now only available as an ebook, but I still have a handful of hardbacks available, normally for sale for $70 plus $5 shipping. For this week only you can buy them, personally autographed by me, for $50 plus $5 shipping! Just send me a check, payable to Robert Zimmerman, to the address above, with a note saying that the money is for the
Leaving Earth
hardback.
Please consider donating. Your help will make it possible for me to continue to be an independent reporter in the field of space, science, technology, and culture.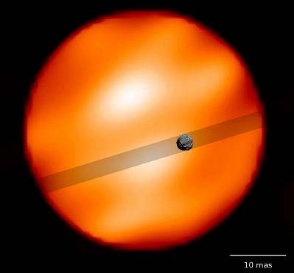 On January 2, 2012, an asteroid is going to transit across the face of Betelgeuse. And if you live in Europe, own a very sensitive telescope, look close and don't blink, you might be able to see it!
This is all according to a preprint paper published today on the Los Alamos astro-ph preprint website, written by scientist Costantino Sigismondi of the Galileo Ferraris Institute and International Center for Relativistic Astrophysics in Rome. You can download the paper here [pdf].
The transit itself will only last 3.6 seconds, and will only be visible along a narrow swath crossing southern India and moving across the Middle East, through parts of Italy, France, and the southwestern most tips of England and Ireland. A map of this path is below the fold.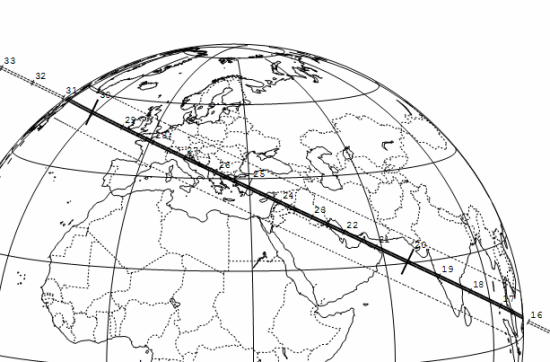 The asteroid, 2005 UW381, is estimated to be a little less than 2 miles wide. As it crosses in front of the star Betelgeuse's magnitude will drop by a whopping 0.01 magnitudes. Though this is a tiny change in magnitude, it is in much greater then the kinds of transits that the Kepler Space Telescope is seeing in space. It is also within the range of a good amateur telescope, properly calibrated.
Because Betelgeuse is relatively nearby (approximately 430 light years) and is quite gigantic (650 times the diameter of the sun), it has the largest angular diameter of any star. It was therefore the first star to be directly imaged, showing a face with mottled appearance that astronomers think is are giant starspots. As a red giant star, Betelgeuse more resembles a giant gasbag, with vast bubbles of material rising upwards to its surface like the bubbles in a simmering pot of tomato sauce. Eventually, the star will use up its fuel and collapse into itself, possibly going supernova.
The asteroid transit next week will be a good way for amateur astronomers to test their equipment in order to be able to do their own observations of some of the more visible extrasolar transits of other stars.