A website, ScienceDebate.org, submitted a wide range of questions to Barack Obama and Mitt Romney about their plans for science and technology, and the answers, shown in a side-by-side comparison, are interesting, though in general they demonstrate the ability of politicians to speak for a long time without saying much.
This ability to blather is especially apparent to their answers to the question 12: "What should America's space exploration and utilization goals be in the 21st century and what steps should the government take to help achieve them?" Neither candidate adds much to what was said in the Republican and Democratic party platforms, making it obvious that neither really cares or knows that much about this subject.
Overall, however, the answers do reveal the basic and fundamental differences between the two candidates, which can be seen in their answers to the very first question about encouraging innovation:

Obama: "I am committed to doubling funding for key research agencies to support scientists and entrepreneurs."
Romney: "The promotion of innovation will begin on Day One, with efforts to simplify the corporate tax code, reform job retraining programs, reduce regulatory burdens, and protect American intellectual property around the world."
Though I have in the last year repeatedly supported the Obama administration's efforts to hand manned spaceflight over to private commercial space, I have always had doubts about the administration's sincerity. Obama does not really have faith in private enterprise. (This is illustrated again in Obama's answer to question 14, where he lists all the achievements in space during the past four years but specifically leaves out mentioning his very successfully private space initiative. It is as if he doesn't want to recognize it because by doing so he will give credit to private enterprise.)
Instead, Obama believes that government is necessary to generate achievement. And though this belief might have worked in the past in certain circumstances, it is madness at this time to increase the demands on the federal government, considering the state of its debt. Yet, here he is, proposing a doubling of funding for science and technology, even though we are drowning in red ink and the money we have spent has gotten us very little in the past decade.
Romney's approach appears more nuanced. Instead of simply promising more money — which would be foolish at this time — he offers a variety of proposals that focus on reshaping the actions of the federal government without increasing cost, while also reducing the burden of that government on the private sector. You might not agree with him, or have much faith that any of this will happen, but at least his approach doesn't immediately make the problem worse.
This pattern repeats itself with each question. Obama's approach is repeatedly to laud the importance of government and its spending to get things done [Update: see this article for the numbers.], while Romney lays out a more detailed approach that includes continued funding for research but usually places limits on government.
For those who have read my writings over the years, you know that I do not believe in using government for any of these things. I'd much rather the federal government got out and left things to the citizenry. However, even if you disagree with me and think that government spending can help, this is not the time for it. The federal government's budget is out of control, it is spending money badly without much thought or care, and is bankrupting the economy in the process.
We have a choice this election. One candidate, Barack Obama, has consistently refused to face this issue and instead makes proposals that will either continue or even increase federal spending. The other candidate, Mitt Romney, has at least recognized the existence of the problem and is offering some proposals for dealing with it. His answers suggest again that under Mitt Romney there will be a strong effort to rein in federal spending.
I have doubts about whether Romney means it or can do it, but I have no doubts about what Obama will do. Under Obama our debt will rise.
Thus, we have a choice this election, and it really comes down to whether the American electorate is ready or not to begin tackling its debt and the out-of-control spending of the federal government.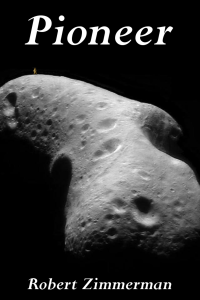 From the press release: From the moment he is handed a possibility of making the first alien contact, Saunders Maxwell decides he will do it, even if doing so takes him through hell and back.
Unfortunately, that is exactly where that journey takes him. The vision that Zimmerman paints of vibrant human colonies on the Moon, Mars, the asteroids, and beyond, indomitably fighting the harsh lifeless environment of space to build new societies, captures perfectly the emerging space race we see today. He also captures in Pioneer the heart of the human spirit, willing to push forward no matter the odds, no matter the cost. It is that spirit that will make the exploration of the heavens possible, forever, into the never-ending future. Available everywhere for $3.99 (before discount) at
amazon
,
Barnes & Noble
, all ebook vendors, or direct from the ebook publisher,
ebookit
. And if you buy it from
ebookit
you don't support the big tech companies and I get a bigger cut much sooner.