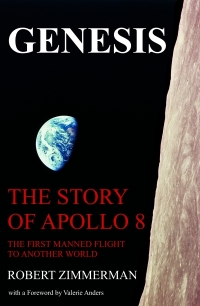 On Christmas Eve 1968 three Americans became the first humans to visit another world. What they did to celebrate was unexpected and profound, and will be remembered throughout all human history. Genesis: the Story of Apollo 8, Robert Zimmerman's classic history of humanity's first journey to another world, tells that story, and it is now available as both an ebook and an audiobook, both with a foreword by Valerie Anders and a new introduction by Robert Zimmerman.
The ebook is available everywhere for $5.99 (before discount) at
amazon
, or direct from my ebook publisher,
ebookit
.
The audiobook is also available at all these vendors, and is also
free with a 30-day trial membership to Audible.
"Not simply about one mission, [Genesis] is also the history of America's quest for the moon... Zimmerman has done a masterful job of tying disparate events together into a solid account of one of America's greatest human triumphs." --San Antonio Express-News
Update: The upgrade is mostly finished. There are still a few tweaks that either I or Shane will do over the weekend but essentially the site is up and running.
——————–
This evening Behind the Black will be undergoing a significant upgrade. For this reason posting will cease beginning with this post at 3 pm (Pacific) until the upgrade is completed later tonight. When completed the site will be slightly different. Most of the changes will be irrelevant to readers, as I have tried in this upgrade to keep the website how I like it, clean, thoughtful, and not cluttered with unnecessary internet stuff.
Two issues will affect my readers.
The spam filter for comments will once again be working. In addition, comments will not be accepted until the commenter completes a Captcha screen. Once this is done, however, the comment will then be instantly approved. I will no longer have to manually approve each comment. This will speed the dialogue. It will also mean that comment threads will remain open forever. Since the spam filter failed in January I have had to close comments on posts after three weeks.
The look of the website will change somewhat. These changes are mostly designed to increase traffic, which will not only increase my readership but will help pay for this site. For example, it will be easier to share a post from Behind the Black in many other venues, such as Facebook and Twitter.
To complete the upgrade my software guy, Shane Rolin of Amixa, and I will have to do a number of tweaks and changes after the new site goes live. Thus, be prepared for a short period on Friday where things might not work as they should. By the end of the evening, however, all should be fixed and working properly. If you see a problem after that please feel free to comment here, describing what you see and what you think could be done to fix it. Also feel free to comment here with any additional suggestions for making Behind the Black a better experience. I am always open to new ideas.
Readers!
My July fund-raiser for Behind the Black is now over. The support from my readers was unprecedented, making this July campaign the best ever, twice over. What a marvelous way to celebrate the website's tenth anniversary!

Thank you! The number of donations in July, and continuing now at the beginning of August, is too many for me to thank you all personally. Please forgive me by accepting my thank you here, in public, on the website.

If you did not donate or subscribe in July and still wish to, note that the tip jar remains available year round.
Regular readers can support Behind The Black with a contribution via paypal:
If Paypal doesn't work for you, you can support Behind The Black directly by sending your donation by check, payable to Robert Zimmerman, to

Behind The Black
c/o Robert Zimmerman
P.O.Box 1262
Cortaro, AZ 85652