Please consider donating to Behind the Black, by giving either a one-time contribution or a regular subscription, as outlined in the tip jar to the right or below. Your support will allow me to continue covering science and culture as I have for the past twenty years, independent and free from any outside influence.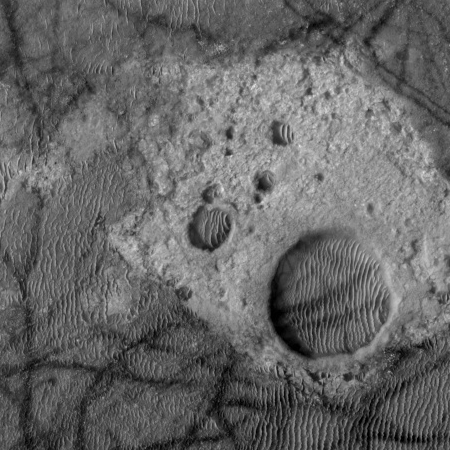 Cool image time! This week JPL's image site highlighted a picture taken by Mars Odyssey of the floor and dunes inside Kaiser Crater, located to the west of Helles basin in an area dubbed the Noachis Region.
To my eye, the Mars Odyssey picture was interesting, but not worth a post here on Behind the Black. However, I decided to take a look at what HiRise, the high resolution camera of Mars Reconnaissance Orbiter (MRO), had taken of the same area, just out of curiosity. A search at the master HiRise image site at the same latitude and longitude (-45 latitude, 180 longitude) showed that HiRise had imaged a part of the same area, but at much higher resolution.
When I zoomed in on this hi resolution image I came across some interesting and weird geology, cropped to show here on the right. Now this, I thought, is worth posting. Notice how the dark tracks, caused by dust devils, leave no tracks as they cut across the brighter areas. Obviously, these bright areas have no dust or sand, and are likely solid bedrock of some kind. The depressions might be craters, but they also might not. The raised area around the depressions might have been caused by the impact, or it might have been caused by some internal geological process that caused the depression while also raising the surrounding bulge. Since then the wind has been steadily depositing sand in the depressions, causing it to get trapped there.