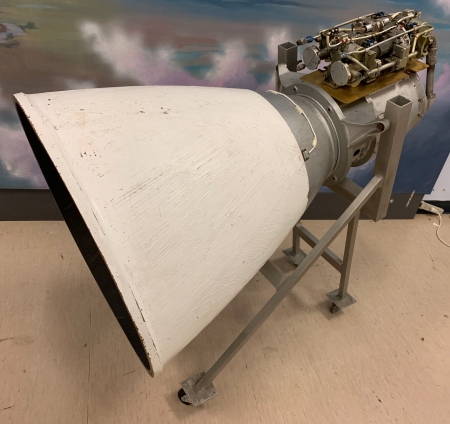 One of the advantages one gets from writing books and giving lectures about them is that you get to see some interesting places and meet some interesting people. This is what happened to me last week when I gave two lectures about the Apollo 8 mission to the Moon on consecutive nights to three different Buffalo aerospace organizations at two different venues. My entire visit was as a guest of the Niagara Frontier Section of American Institute of Aeronautics and Astronautics, as part of its Distinguished Lecturer program, something I have participated in now for almost a decade.
The first lecture was at the Niagara Aerospace Museum. Prior to my evening talk Don Erwin, a member of the museum's board of trustees, gave me detailed tour of the museum and its holdings, which include a wealth of artifacts going back to the very beginnings of flight and running through the Apollo lunar missions. Many of aviation's first innovators came from the western New York area, and the companies they created ended up building important components for the later U.S. effort to get to the Moon.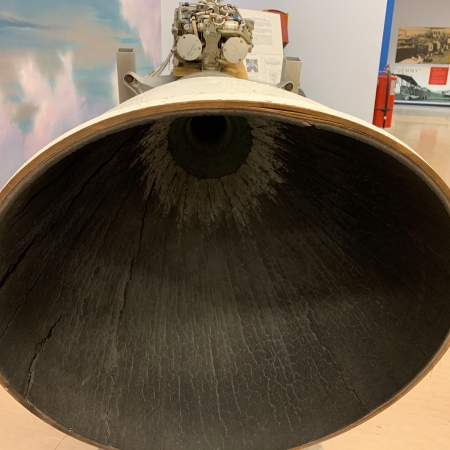 Above on the right is one of their more significant artifacts, a lunar module ascent engine. Built mostly by Bell Aerospace, this particular engine was used to test the engine to make sure the design would work. It had to work, by the way, since it had no back-up and if it failed then the astronauts would have been stranded on the Moon.
Since it really only had to work reliably once, however, the nozzle was made of ablative material rather than a heavier metal. The second image on the right looks into that nozzle, where you can see the result of the various test firings done to prove out the engine. There is obvious wear to the interior of the nozzle.
What made this museum especially fun was how accessible everything was.

I could literally poke my fingers into this engine if I wished. This made it very easy to clearly see the design and its execution, which further impressed me with its simple elegance. The museum's helicopters, early Wright-era biplanes, and other Apollo artifacts were all right there, in plain sight, with few if any barriers between me or the item. Later I could see up-close the inside of a partly assembled bi-plane, inspect the inside of the main engine to the Agena engine that played a crucial part in the Gemini rendezvous and docking missions, and touch a mission control panel used during the Apollo missions.
I was especially impressed with the helicopter section of the museum. They not only had a nice collection, but it touched on aspects of the history of helicopter development that I had not known before.
The next night I spoke to a joint dinner run by both the Niagara Frontier section of the AIAA as well as the Aero Club of Buffalo. The latter is especially interesting, as it is the second oldest aeronautics club in the world, formed in 1910 out of several earlier organizations tracing their history back to 1879.
At that dinner I was introduced to a cheerful but aged man in his nineties by the name of John Senneff. As my host Walter Gordon explained to me, "John Senneff worked on the Agena and LM ascent engines and flew P-47s over Europe in World War II. He was both a ski instructor at Kissing Bridge and flew his personal Mooney aircraft into his late 80s." He also was one of the engineers who built the attitude systems for both the Mercury capsule and the space shuttle, a range of design that I thought quite impressive.
He was not so impressed with himself. When I told him how struck I was with the brilliance of the LM ascent engine, he grinned and said, "Most of the time we just looked at each other and said, 'What do we do now?'"
That humility is exactly why the United States was able to get to the Moon in the 1960s. While everyone understood the challenge, everyone also recognized that it would take ordinary people doing extraordinary things to make it happen. They knew they weren't so wonderful that they couldn't screw it up. It made them humble, and also very careful about what they did.
I leave you with one last fascinating historical tidbit from my tour of the Niagara Aerospace Museum: Did you know that the screens on the Apollo mission control consoles had nothing directly to do with computers? The assumption I had always had was these were computer screens with the data from the computers being feed directly into those screens, as it was obtained and calculated.
Nope. These were television screens. In the main computer rooms below the data was projected on other screens, which had television cameras aimed at them. The data seen in mission control was information televised to the room, by camera. The controls on the mission control panels were merely switches to allow the operator to choose which television image he wished to view. All computer work was controlled elsewhere, by others.
Readers!
I must unfortunately ask you for your financial support because I do not depend on ads and rely entirely on the generosity of readers to keep Behind the Black running. You can either make a one time donation for whatever amount you wish, or you sign up for a monthly subscription ranging from $2 to $15 through Paypal or $3 to $50 through Patreon.
Your support will allow me to continue covering science and culture as I have for the past twenty years, independent and free from any outside influence.
Your support is even more essential to me because I not only keep this site free from advertisements, I do not use the corrupt social media companies like Google, Twitter, and Facebook to promote my work. I depend wholly on the direct support of my readers.
You can provide that support to Behind The Black with a contribution via Patreon or PayPal. To use Patreon, go to my website there and pick one of five monthly subscription amounts, or by making a one-time donation. For PayPal click one of the following buttons:

If Patreon or Paypal don't work for you, you can support Behind The Black directly by sending your donation by check, payable to Robert Zimmerman, to


Behind The Black
c/o Robert Zimmerman
P.O.Box 1262
Cortaro, AZ 85652


Or you can donate by using Zelle through your bank. You will need to give my name and email address (found at the bottom of the "About" page). The best part of this electronic option is that no fees will be deducted! What you donate will be what I receive.