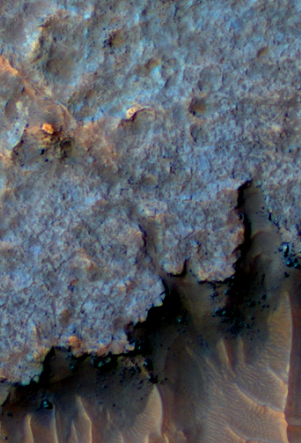 The uncertainty of science: In this week's release of images from Mars Reconnaissance Orbiter, the science team posted the image on the right and asked, "What is this stuff?"
Here's a hypothetical geologic history that might explain this scene: layered sediments were deposited by water or airfall (including volcanic pyroclastics). A crudely polygonal patterned ground was created by stresses in the sediments, and groundwater followed the fractures and deposited minerals that cemented the sediments. This was followed by perhaps billions of years of erosion by the wind, leaving the cemented fractures as high-standing ridges.

Of course, this story is almost certainly incomplete if not totally wrong.
Click here to see the close-up subimage from which I cropped the image on the right.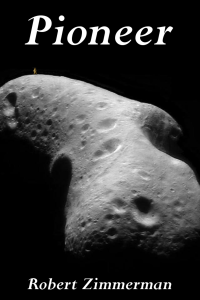 From the press release: From the moment he is handed a possibility of making the first alien contact, Saunders Maxwell decides he will do it, even if doing so takes him through hell and back.
Unfortunately, that is exactly where that journey takes him. The vision that Zimmerman paints of vibrant human colonies on the Moon, Mars, the asteroids, and beyond, indomitably fighting the harsh lifeless environment of space to build new societies, captures perfectly the emerging space race we see today. He also captures in Pioneer the heart of the human spirit, willing to push forward no matter the odds, no matter the cost. It is that spirit that will make the exploration of the heavens possible, forever, into the never-ending future. Available everywhere for $3.99 (before discount) at
amazon
,
Barnes & Noble
, all ebook vendors, or direct from the ebook publisher,
ebookit
. And if you buy it from
ebookit
you don't support the big tech companies and I get a bigger cut much sooner.