Readers!
For many reasons,
mostly political but partly ethical
, I do not use Google, Facebook, Twitter. They practice corrupt business policies, while targeting conservative websites for censoring, facts repeatedly
confirmed
by news stories and by my sense that Facebook has taken action to prevent my readers from recommending Behind the Black to their friends.
Thus, I must have your direct support to keep this webpage alive. Not only does the money pay the bills, it gives me the freedom to speak honestly about science and culture,
instead of being forced to write it as others demand.
Please consider donating by giving either a one-time contribution or a regular subscription, as outlined in the tip jar below.
Regular readers can support Behind The Black with a contribution via paypal:
If Paypal doesn't work for you, you can support Behind The Black directly by sending your donation by check, payable to Robert Zimmerman, to

Behind The Black
c/o Robert Zimmerman
P.O.Box 1262
Cortaro, AZ 85652

You can also support me by buying one of my books, as noted in the boxes interspersed throughout the webpage. And if you buy the books through the ebookit links, I get a larger cut and I get it sooner.
The science team of Lunar Reconnaissance Orbiter released an intriguing picture yesterday of what scientists call a granular flow down the side of a five mile wide crater on the far side of the moon. Looking at the image, one would swear that the darker material flowing down the slope of the crater rim is a lava flow frozen in place.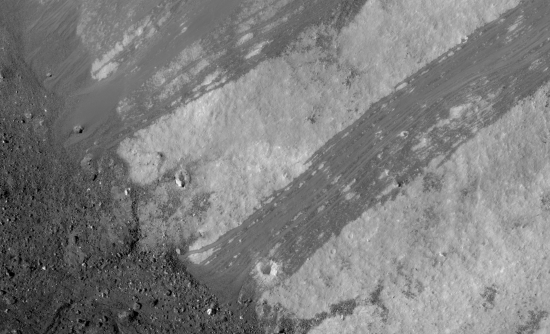 However, according to the scientists, that is not what it is. Instead, this is merely debris left behind from an avalanche.

This location most likely means that we are not observing a compositional difference, as there are no nearby sources of mare basalt that could account for the low-reflectance material. Second, in this particular NAC frame there is no evidence for impact melt deposits around the rim of the crater, although you can find evidence of impact melt in the crater floor. The crater is not large enough to develop terraces where impact melt can pool and then flow out. So this flow is probably granular, not molten.
What I like is how liquid-like the flow looks, especially once it reaches the crater floor and begins to fan out. As the lunar scientists note on another page explaining granular flows, "It is amazing how the physics of wet material (Newtonian flow) in some cases applies to dry material! The Moon is dry and this slide was formed without the involvement of water."