A commenter to one of my other posts, ZZMike, asked this question today: " What is NASA's Secret Astrobiology Announcement?" and quoted this from another website, "Science fans across the Internet are eagerly awaiting an announcement from NASA's astrobiology team. All NASA will say about the press conference is that it will "discuss an astrobiology finding that will impact the search for evidence of extraterrestrial life."
Unfortunately, Mike, this great discovery is not the big news that everyone is hoping for, such as the discovery of life on Mars. Instead, it is about the discovery that a certain microbe can eat and digest arsenic, using it as one of the six vital basic components of life (carbon, hydrogen, nitrogen, oxygen, sulfur, phosphorus) in place of phosphorus. This is very significant since it tells us that alien life could very well be far more alien than previously imagined.
What makes this story interesting, however, is not the discovery itself (which is important). Instead, because NASA was so vague in its press announcement it allowed a large number of irresponsible reporters and bloggers to go nuts trying to guess what the story was about. When these rumors began to get out of control, the magazine Science finally sent out a notice to journalists noting the specific paper and discovery so that they at least would know in advance what the conference was about.
As Mike above as well as several other people noted to me in emails, I had written nothing about this story on behindtheblack. This was intentional. Without knowing what the conference was about, I wasn't going to speculate about it. Once I knew, I still remained silent because the story was under embargo by Science and I respect these embargos. Now that the embargo has been lifted, I can speak.
What I want to speak about is the danger of speculation, especially among journalists. This is a serious problem today. Too often journalists speculate off the cuff, without knowing a goddamn thing about the subject, And all too often, they are downright wrong, and help contribute to misinforming the public. The result: the field of journalism has a terrible reputation with the public. No one trusts what journalists tell us. Worse, this lack of trust is helping fuel the ignorance and anger that seems to be rising in society, as no one knows what to believe about some of the most important issues of our time.
Journalists need to stop doing this. Rather than fantasize what they don't know, journalists need to focus on what they do know. If they do that, they will significantly help repair the sagging reputation of their field.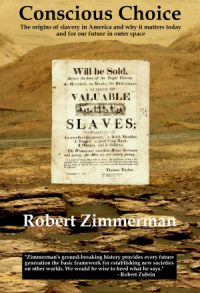 Now available in hardback and paperback as well as ebook!
From the press release: In this ground-breaking new history of early America, historian Robert Zimmerman not only exposes the lie behind The New York Times 1619 Project that falsely claims slavery is central to the history of the United States, he also provides profound lessons about the nature of human societies, lessons important for Americans today as well as for all future settlers on Mars and elsewhere in space.
Conscious Choice: The origins of slavery in America and why it matters today and for our future in outer space
, is a riveting page-turning story that documents how slavery slowly became pervasive in the southern British colonies of North America, colonies founded by a people and culture that not only did not allow slavery but in every way were hostile to the practice.
Conscious Choice
does more however. In telling the tragic history of the Virginia colony and the rise of slavery there, Zimmerman lays out the proper path for creating healthy societies in places like the Moon and Mars.
"Zimmerman's ground-breaking history provides every future generation the basic framework for establishing new societies on other worlds. We would be wise to heed what he says." —Robert Zubrin, founder of founder of the Mars Society.
All editions are available at Amazon, Barnes & Noble, and all book vendors, with the ebook priced at $5.99 before discount. The ebook can also be purchased direct from my ebook publisher, ebookit, in which case you don't support the big tech companies and I get a bigger cut much sooner.
Autographed printed copies are also available at discount directly from me (hardback $24.95; paperback $14.95; Shipping cost for either: $5.00). Just email me at zimmerman @ nasw dot org.