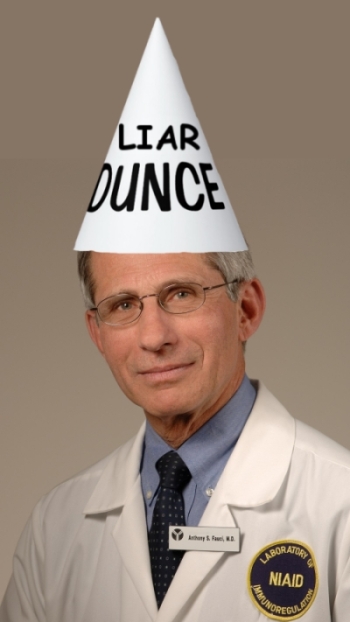 Anthony Fauci: Washington's liar-in-chief
Two stories in the past week got some notice in the conservative press as it reported on the increasing ramp up of fear-mongering about a new COVID epidemic (coincidently timed to arrive just before the 2024 election) by politicians, health officials, and the mainstream press.
The first story produced a lot of coverage because it involved the embarrassing appearance of Anthony Fauci on CNN, who when challenged directly on the recent research that has found masks accomplish nothing (which by the way simply confirms decades of earlier research that told us the same thing) still claimed that masks worked, and that this evidence should be ignored. You can watch Fauci's moment of tragic black comedy here. His key response is at best incoherent, and at worst an utter lie and a denial of plain facts.
"Yes, but there are other studies, Michael, that show at an individual level, for individual, when you're talking about the effect on the epidemic or the pandemic as a whole, the data are less strong. But when you talk about as an individual basis of someone protecting themselves or protecting themselves from spreading it to others, there's no doubt that there are many studies that show that there is an advantage. When you took it at the broad population level like the Cochrane study, the data are less firm with regard to the effect on the overall pandemic. But we're not talking about that, we're talking about an individual's effect on their own safety. That's a bit different than the broad population level."
Fauci refers to the "many studies" proving his position, but of course he can't name them because they don't exist. Even during the worst of the Wuhan panic the few studies that came out claiming some efficacy of masks were all found to be weak or flawed or downright fraudulent. He also makes the patently stupid claim that masks still work on an individual level, even though he admits the evidence for more than a century shows they don't work at all.
This is what Michael Cantrell at PJMedia had to say about Fauci's rationalizations:

Fauci was unfazed, continuing to hold to his position on the efficacy of masks, despite the evidence to the contrary being thrust before his very eyes. He's a company "yes man" to the end.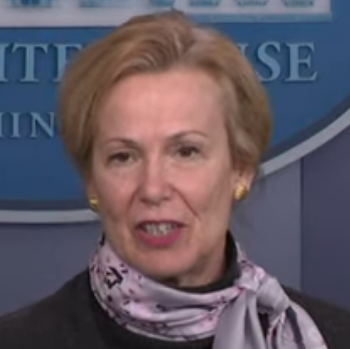 Deborah Birx, self-admitted government liar
The second story was an interview given to Deborah Birx on Newsmax. Birx had served as a member of the COVID response team formed by Trump during the height of the panic, and is a self-admitted liar who purposely faked data and manipulated facts to get Trump to impose her preferred policies of lock downs, social distancing, and mask mandates.
For some reason, Newsmax wanted to know what this dishonest bureaucrat thought should be done today in the obvious arrival of another plague of COVID just before the 2024 election. Surprisingly, Birx gave a somewhat reasonable response, saying that mandates were not necessary and being "outside is safe, and playgrounds are safe."
My question however is this: Why are any news organizations putting these liars and frauds on the air, to spread more disinformation and misinformation? These people are not untrustworthy sources of information or expertise. They are propagandists and shallow frauds, who should never again be given any public platform to speak anywhere.
CNN's anchor, Michael Smerconish, at least did some real journalism by asking Fauci some tough questions. He however didn't push Fauci as hard as he should by laying out all of Fauci's many lies, starting with lying repeatedly about providing China funding to develop COVID. Instead, Smerconish treated Fauci with the respect Fauci no longer deserves.
Newsmax didn't even do that. It called on Birx for her "expert" advice, even though nothing she says can be relied on to be either honest, factual, or even illustrating any expertise.
It is time to ban these liars from the airwaves. While my readers know I oppose blacklisting, I certainly do not support giving liars a megaphone to spout lies. The press should stop giving these liars that megaphone, now.
And any "news" source that relies on these liars for its "news" should be treated with equal contempt. If you give these frauds the ability to lie some more you tell us that you really aren't interested in reporting the news honestly. You are instead just a propaganda operation, working to endorse and magnify even more lies.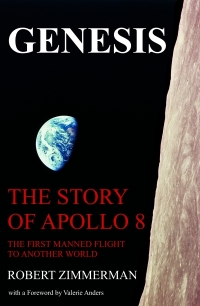 On Christmas Eve 1968 three Americans became the first humans to visit another world. What they did to celebrate was unexpected and profound, and will be remembered throughout all human history. Genesis: the Story of Apollo 8, Robert Zimmerman's classic history of humanity's first journey to another world, tells that story, and it is now available as both an ebook and an audiobook, both with a foreword by Valerie Anders and a new introduction by Robert Zimmerman.
The ebook is available everywhere for $5.99 (before discount) at
amazon
, or direct from my ebook publisher,
ebookit
. If you buy it from
ebookit
you don't support the big tech companies and the author gets a bigger cut much sooner.
The audiobook is also available at all these vendors, and is also
free with a 30-day trial membership to Audible.
"Not simply about one mission, [Genesis] is also the history of America's quest for the moon... Zimmerman has done a masterful job of tying disparate events together into a solid account of one of America's greatest human triumphs."--San Antonio Express-News