Yesterday SpaceX attempted for the second time to land the first stage of its Falcon 9 rocket on an unmanned barge in the Atlantic. They failed, spectacularly.
I however consider this attempt to be a magnificent success. I also think they could fail at achieving this vertical landing for the next twenty launches and still those failures would each be a magnificent success.
Why? How can an engineering failure like this really be considered an achievement? It is very simple. Even if SpaceX continues to fail in its effort to recover its Falcon 9 first stage and reuse it, the possibility that they might succeed — demonstrated time after time by the company with each launch — has struck terror in the hearts of every other aerospace launch company. Each landing attempt shows SpaceX's commitment to lowering launch costs while developing cutting edge engineering capabilities. Each attempt shows the world that they are the world's leading launch company.
The result? Every other launch company in the world, both old and new, are scrambling desperately to lower their own costs as well as improve their own engineering.

ULA is going to try to recover the engines of the first stage of its next generation rocket Vulcan. They are going to make Vulcan's upper stage refuelable and maneuverable, so that once in orbit it will have the potential capability to be used as a space tug.
Airbus Safran is demanding control and ownership of Europe's next generation rocket Ariane 6. They won't build it for ESA unless they get that control, because only with that control will they be able to lower their costs and compete effectively.
China is now exploring ways to recover and reuse its rocket stages
Russia is finally scrambling to finish and launch its Angara rocket, twenty years after conception and after years of slow unhurried work.
New companies like Stratolaunch have appeared to meet the challenge, taking advantage of their fresh start to build a new launch system from scratch, as SpaceX did, to leverage innovative engineering to magnify launch cost savings.
This list is not complete. Expect it to grow. And expect that in five years the cost of getting a payload into orbit will have dropped significantly, with the downward trend in cost continuing. The competition from SpaceX, even when they fail, is forcing the world to review the manner in which it puts objects into orbit, and to find ways to do it better and for less cost.
How else can I see this but as a success?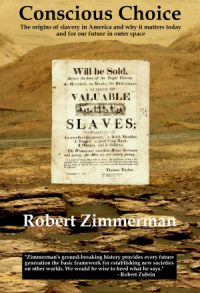 Now available in hardback and paperback as well as ebook!
From the press release: In this ground-breaking new history of early America, historian Robert Zimmerman not only exposes the lie behind The New York Times 1619 Project that falsely claims slavery is central to the history of the United States, he also provides profound lessons about the nature of human societies, lessons important for Americans today as well as for all future settlers on Mars and elsewhere in space.
Conscious Choice: The origins of slavery in America and why it matters today and for our future in outer space
, is a riveting page-turning story that documents how slavery slowly became pervasive in the southern British colonies of North America, colonies founded by a people and culture that not only did not allow slavery but in every way were hostile to the practice.
Conscious Choice
does more however. In telling the tragic history of the Virginia colony and the rise of slavery there, Zimmerman lays out the proper path for creating healthy societies in places like the Moon and Mars.
"Zimmerman's ground-breaking history provides every future generation the basic framework for establishing new societies on other worlds. We would be wise to heed what he says." —Robert Zubrin, founder of founder of the Mars Society.
All editions are available at Amazon, Barnes & Noble, and all book vendors, with the ebook priced at $5.99 before discount. The ebook can also be purchased direct from my ebook publisher, ebookit, in which case you don't support the big tech companies and I get a bigger cut much sooner.
Autographed printed copies are also available at discount directly from me (hardback $24.95; paperback $14.95; Shipping cost for either: $5.00). Just email me at zimmerman @ nasw dot org.