In response to my condemnation of the insane requirement by Obamacare that restaurants and take-out pizza delivery services publicly post on their menus the calorie count for every item, including a calorie count for each of the literally thousands of topping variations for pizzas, regular reader Patrick Ritchie asked me, "What level of super market labeling would you support?"
I replied, "I think the federal government has no business requiring any labeling at all. This is a state matter, pure and simple, both for practical and Constitutional reasons."
He responded, "Which practical reasons? I'm genuinely curious. What makes a state regulation inherently better than a federal one?"
My response to this last question was quite long, and after reading it Patrick suggested I elevate the comment into a full headlined post. I have decided to do so. Here is what I wrote, edited slightly for clarity:

The American federalist system is not an anarchy, it is a system founded specifically on government, but of a rational and complex nature. And the heart of that rational and complex system is local control, for both practical and Constitutional reasons.
First the Constitutional reasons. You cannot have freedom without law and rules. However, if you allow law to run wild you cannot have freedom. The Founding Fathers understood this deeply. The solution to this contradictory reality that they came up with was to give the greatest flexibility and power to the local governments, slightly less to the states, and then even less to the federal government. In fact, the Constitution itself is a negative document, whereby it outlines very specifically the few powers the federal government shall have, and then clearly states that all other powers not so defined are reserved to the states and the people.
This is the Constitutional reason why the federal government should not be requiring labeling on food products. It isn't its right or power, according to law. It is fundamentally unconstitutional.
Then there is the practical reason, which is also why the Founding Fathers designed this system this way. They understood that it would be impractical in a large nation for all regulation to be managed from the central government. Better to leave the more mundane and detailed legalities to local and state governments, especially since these local and state governments are best placed to understand the problems themselves, being close to them. Central governments are too big, too distant, too unwieldy, to handle local regulatory issues.
Also, local and state governments, being numerous and small, can be more flexible. They can try different things, then compare their efforts and, far more easily than a big centralized government, adapt and adjust. Having the federal government do it means you only get one choice, which will be very difficult to change because of that government's huge size and inertia.
Finally, there is the moral reason for keeping this regulatory power out of the hands of a big centralized government. Distant from the people it governs, it is too easy for a federal government to become power-hungry, greedy, and corrupt. Eventually its interests supersede those of its citizens. It acts for its own interests and power. It becomes oppressive. The law runs wild and freedom dies.
Such oppression, while possible in state and local governments, is far more difficult in those governments to maintain or impose. And even if they do become oppressive and corrupt, the citizens still have the freedom to move. They can flee a failed local government and move to where government and society is more rationally maintained. (In fact, that is exactly what has been happening for the past forty years, with the big urban cities, most badly managed and highly taxed, seeing their populations dwindle as their citizens fled to greener pastures.)
However, if a centralized federal government becomes corrupt or oppressive, there is no place for you to flee. And because of its huge size and power, it is far more difficult to modify or reform it. It simply grows and grows, and eventually eats itself and everyone else.
Which sadly, appears to be happening.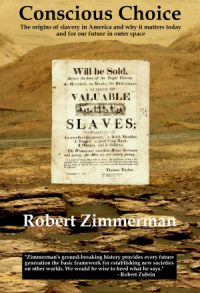 Now available in hardback and paperback as well as ebook!
From the press release: In this ground-breaking new history of early America, historian Robert Zimmerman not only exposes the lie behind The New York Times 1619 Project that falsely claims slavery is central to the history of the United States, he also provides profound lessons about the nature of human societies, lessons important for Americans today as well as for all future settlers on Mars and elsewhere in space.
Conscious Choice: The origins of slavery in America and why it matters today and for our future in outer space
, is a riveting page-turning story that documents how slavery slowly became pervasive in the southern British colonies of North America, colonies founded by a people and culture that not only did not allow slavery but in every way were hostile to the practice.
Conscious Choice
does more however. In telling the tragic history of the Virginia colony and the rise of slavery there, Zimmerman lays out the proper path for creating healthy societies in places like the Moon and Mars.
"Zimmerman's ground-breaking history provides every future generation the basic framework for establishing new societies on other worlds. We would be wise to heed what he says." —Robert Zubrin, founder of founder of the Mars Society.
All editions available at Amazon, Barnes & Noble, and all book vendors. The ebook can be purchased direct from my ebook publisher, ebookit, in which case you don't support the big tech companies and I get a bigger cut much sooner. Note that the price for the ebook, $3.99, goes up to $5.99 on September 1, 2022.
Autographed printed copies are also available at discount directly from me (hardback $24.95; paperback $14.95). Just email me at zimmerman @ nasw dot org.