Today there were many many news stories touting the successful launch of the United Arab Emirates' (UAE) first interplanetary probe, Hope, (al-Amal in Arabic), successfully launched yesterday from Japan. This story at collectSpace is typical, describing the mission in detail and noting its overall goals not only to study the Martian atmosphere but to inspire the young people in the UAE to pursue futures in the fields of science and engineering.
What most of these reports gloss over is how little of Hope was really built by the UAE. The UAE paid the bills, but during design and construction almost everything was done by American universities as part of their education programs, though arranged so that it was UAE's students and engineers who were getting the education.

The spacecraft itself was designed and built by the Laboratory for Atmospheric and Space Physics at the University of Colorado, Boulder. UAE's students were folded in so as to teach them as much as possible about how such things are done and to better train them for their own future projects.
Hope's instruments also followed this same pattern. The spacecraft has three instruments, two spectrometers and one camera, all designed to observe the atmosphere of Mars and its changing and faint weather patterns. These instruments were designed and built by American engineers and scientists at American universities — Arizona State University (ASU), Northern Arizona State University , and University of California-Berkeley — all under their student programs and partnering with UAE's students and engineers for much of the work.
The infrared spectrometer was developed and built at ASU and the camera was developed and built at Colorado University. In both cases UAE engineers, scientists and students were heavily integrated into the work, but it was still nonetheless led by the U.S. universities.
Only the far ultraviolet spectrometer appears to have been a true partnership, as it was developed jointly by the UAE's space agency MBRSC and Colorado.
During this process the UAE students also received training at UC-Berkeley.
Then, Mitsubishi under the supervision of the Japanese space agency JAXA launched the probe from Japan. The UAE's part here was paying the bill.
Now that the spacecraft is launched and on its way to Mars, the UAE's MBRSC space agency is completely in charge, as mission control is in the the UAE and is being run by these very students as well as other UAE scientists and engineers. I guarantee however that they are and will be getting extensive and continuous help from these same universities in operating the spacecraft as it flies to Mars, achieves orbit, and begins science operations.
None of this description is intended to denigrate the UAE's achievement here. That country has taken a bold step forward by instigating this mission (as well as paying to fly one of their citizens to ISS on a Soyuz rocket last October). Their leaders are aggressively working to lay the groundwork for their own hi-tech industries, and pushing for their own independent aerospace industry is certainly a smart way to do this.
Moreover, the mission now is in the hands of the UAE. It will succeed or fail due to the work of their own engineers in the UAE. I hope they succeed.
The main question is whether this strategy will work for the UAE, in the long run. They are without doubt training many of their people to become qualified space scientists and engineers. Will these individuals use that education to create that aerospace industry in the UAE, or will they end up grabbing jobs outside their country, where such industries already exist? It is hard to say.
Arab culture does not lend itself well to independent competition and capitalism. Like Russia, it is authoritarian and top-down in nature. For it to truly build a new aerospace agency it will have to let these new scientists and engineers take the lead and support them as they come up with new projects and businesses.
The evidence so far suggests this will not happen. This article, describing the launch from a UAE news source, is quite typical of all their news services and is not encouraging. It focuses not on the achievements of these engineers and scientists, but on the speeches of the leading sheiks of the UAE as they celebrate the successful launch. A review of many UAE news reports shows a similar pattern, something I have previous noted during their space successes in the past two years. Each success became more a photo-op for these leaders than a way to tout the achievements of their own people.
Still, yesterday's launch is a grand achievement for the Arab world. If it succeeds in its true goal, to create a real aerospace industry, it might also help to reshape that Arab world's culture for the better. And that would be an achievement I think everyone worldwide will celebrate.
Let me add one more thought: This mission illustrates most clearly the generosity and openness of America. We have gone out of our way to help the UAE in this task, and have made it a point to let them take the credit. This speaks well of this land, founded on the promise of providing its people life, liberty, and the pursuit of happiness.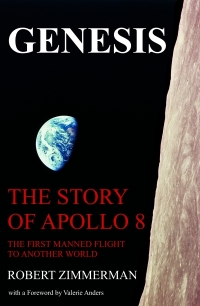 On Christmas Eve 1968 three Americans became the first humans to visit another world. What they did to celebrate was unexpected and profound, and will be remembered throughout all human history. Genesis: the Story of Apollo 8, Robert Zimmerman's classic history of humanity's first journey to another world, tells that story, and it is now available as both an ebook and an audiobook, both with a foreword by Valerie Anders and a new introduction by Robert Zimmerman.
The ebook is available everywhere for $5.99 (before discount) at
amazon
, or direct from my ebook publisher,
ebookit
. If you buy it from
ebookit
you don't support the big tech companies and the author gets a bigger cut much sooner.
The audiobook is also available at all these vendors, and is also
free with a 30-day trial membership to Audible.
"Not simply about one mission, [Genesis] is also the history of America's quest for the moon... Zimmerman has done a masterful job of tying disparate events together into a solid account of one of America's greatest human triumphs."--San Antonio Express-News