For me, the most distressing part of the panic over COVID-19 has not been the rules, the mandates, the nullification of the Bill of Rights, and the shut down of normal life, all of which have been terrible, wrong-headed, and a disaster for our country.
What has distressed me the most is the gutless response by the nation's so-called conservative Republican politicians. All of the panic and harsh rules and economic damage has been designed by the Democrats to hurt the reelection chances of Trump. Little of it has anything to do with stopping the virus, and in fact most are nothing more than symbolic gestures that can accomplish nothing.
Despite this, Republican elected leaders have acquiesced to the Democrats demands, almost across the board.
Consider my own state of Arizona. My governor, Doug Ducey, is Republican. Republicans also have majorities in both houses of my state legislature. Yet, they have either let the Democrats run the show, or have acted in ways that are indistinguishable from the worst dictators in New York and New Jersey. First Governor Ducey imposed and then extended a lockdown that has bankrupted many businesses in the state. Then, as he began to loosen that lockdown he ceded his power to the generally Democratically-controlled local governments, letting them impose their own odious rules in place of his. The result is that in most big cities in the state, the lock down did not really end, but got tightened with new rules mandating masks.
Yesterday he reinstated part of his lock down for another thirty days. And like Democratic governors in Michigan, Pennsylvania, California, and New Jersey, the new rules he imposed [pdf] were arbitrary and capricious, and will thus have little if any effect. Bars, gyms, indoor movie theaters, and water parks have to close until July 27th. Government and community pools however can stay open. So can restaurants, shopping centers, clothing stores, and many other venues that previously were considered "non-essential." He also banned any gathering of more than fifty people, but exempted political demonstrations and religious services.
And why did he do this? It appears there has been an increase in COVID-19 cases in the past few weeks! That means (oh no!) the number of people either hospitalized or dying might skyrocket, and overwhelm the hospitals!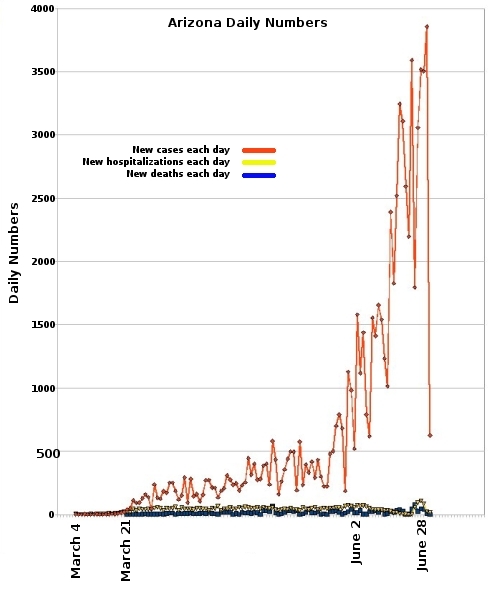 The graph to the right (source here) illustrates the stupidity of these assumptions. The number of new cases has clearly skyrocketed, but the number of new deaths and hospitalizations has not. In fact, in order to make the changes in deaths and hospitalizations visible at all I had to significantly expand the vertical axis. Otherwise both would appear as straight lines at the bottom.
This graph illustrates how little threat the disease has been to the general population. While it does appear that Ducey's decision to mostly end the lock down in mid-May might have contributed to the increase in cases (though aggressive testing could have also contributed), the number of deaths and hospitalizations hardly rose at all. In May the daily death rate was about 21 per day. In June it was 24. In May the daily hospitalization rate was about 48. In June it was 45.
In other words, the disease was finally doing what it was always going to do, spread through the healthy younger population, which could throw it off with little problem while gaining immunity, and thus quicken the moment when the virus would die off and no longer threaten the older population. Had we not locked society down, this would have likely already happened, without overwhelming or bankrupting anything, and the disease would have already run its course.
I must also note that this graph also illustrates the complete failure of the new mandates in Arizona to wear masks. They did nothing to slow the spread of the virus. In fact, I suspect they helped it spread, because of the unsanitary manner in which most people use their masks.
These numbers thus provide no justification for Ducey's decision to arbitrarily reinstate some of his lock down rules. None. Some might argue that it will take a couple of weeks for the death and hospital rates to catch up with the cases, but the cases have been very high for weeks already, and the death and hospitalizations have not increased significantly.
Moreover, these low numbers illustrate once again how unwarranted and overblown Ducey's entire response to COVID-19 has been. In the first half of 2020 1,588 people in Arizona are assumed to have died from the Wuhan virus. That comes out to an average of 8 deaths per day.
Sounds horrible, eh? Well, take a look at this CDC data for the leading causes of death in Arizona from 2017:
Heart disease: 34 deaths per day.
Cancer: 33 deaths per day.
Accidents: 11 deaths per day.
Respiratory illnesses: 10 deaths per day.
Alzheimer's: 10 deaths per day.
Stroke: 7 deaths per day.
Drug overdoses: 4 deaths per day.
I highlight the death rate for respiratory illnesses, as it was higher in 2017 than COVID-19 is in 2020. Yet, I don't remember the world shutting down in panic over this death rate. (Though the 2017 number appears to include both viral sickness as well as chronic illness, in 2020 almost all respiratory deaths have been assigned to COVID-19 in order to inflate its numbers. I therefore think it valid to compare the two numbers.)
Unfortunately, Doug Ducey has been more or less typical of most Republicans in power. They have all followed like sheep the lead of the Democrats, imposing and reimposing their own set of mandates and edicts, many of which routinely violate the Constitution and the Bill of Rights, all based on faulty reasoning and a poor understanding of the data.
Worse, even in cases where Republicans were not involved in imposing such rules, their response to the bad actions of Democrats, has been weak and spineless. Consider this story: Wisconsin small-business owner denied coronavirus relief funds after attending lockdown protest.
Dimple and Denis Navratil have owned Dimple's Fine Imports LLC in Racine, Wisconsin, for more than 20 years. They applied twice for some of the $900,000 the city allocated to small businesses to help offset the financial burden of the health crisis, according to an investigation conducted by the Journal Times and published Sunday.

Upon receiving his second denial, Denis Navratil was told by the city's mayor that his attendance at a rally in Madison on April 24 protesting Democratic Gov. Tony Evers's "Safer at Home" measures was used as a basis for his rejection. "Participating in mass gatherings outside of our community, such as the rally that was held at the State Capitol — such large gatherings have been linked to cases of COVID-19 around the state — and then returning to our City, only served to put our residents at unnecessary risk and, thus, factored into the funding consideration," Mayor Cory Mason told the paper. [emphasis mine]
Of course, I am sure if these business-owners had participated in protests supporting "Black Lives Matter", an organization where a percentage of the funds raised are funneled directly to Democratic Party PACs, their aid request would have been approved instantly.
We must remember that Wisconsin is supposed to be swing state. From 2010 to 2018 it was run by a conservative Republican governor, and Trump won the state in the 2016 election. The Republicans remain a major component of this state's government.
And where are they? What are they doing about this? Anything? It sure does not appear that defending the rights of Americans is very high on their list of priorities.
Then there is our quesling Republican Senate majority leader, Mitch McConnell (R-Kentucky). He might have pushed through a record number of conservative judges, but that is all he has done. In practically everything else he kowtows to Democratic demands. Previously he had no problem with renaming military bases to cancel part of American history. Now he has come out in full support of the wearing of masks. Nor is he alone among the senators. Marco Rubio (R-Florida) and Lamar Alexander (R-Tennessee) agree with him.
None of these Republican geniuses however demanded any kind of standards for those masks. You could wear a nylon socking for all their care. All they want is agree with the Democrat's desire to make everyone look like an Antifa terrorist, so those terrorists can more easily go about their business of violently terrorizing anyone who disagrees with them.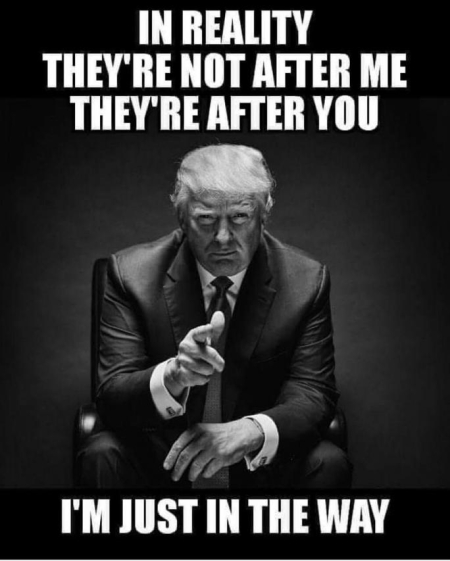 And then, what about Donald Trump? For the past few years there has been a meme going around with a picture of Trump and the words, "In reality, they're not after me, they're after you. I'm just in the way." That meme was true for the first three years of Trump's administration. The Democrats and the leftists attacked Trump with everything they could think of. They made up false charges, they slandered him and members of his administration, actually framing some on false charges. They even tried an absurd impeachment charge, which bombed spectacularly.
None of that worked, because Trump would not bow to them. When they attacked him, he attacked back as hard. He clearly acted like he was willing to fight and defend the citizens of the country should the worst happen. That willingness to fight firmed up the support for him, not simply from his base but from swing voters who have clearly not been happy with the status quo. Trump was giving them a clear option.
Now, not so much. When the Democratic attacks shifted this spring from Trump to the American people and the country itself, suddenly Trump didn't have that much fight. In fact, he has basically been a bystander as governors nationwide have nullified the Constitution, the Bill of Rights, and all aspects of American freedom. He has done little as riots and looting swept across the nation. And when domestic terrorists started tearing down statues, defacing churches, synagogues, and all symbols of this great and glorious land, his response has been generally weak.
For those swing voters, Trump now looks like someone who really only cares about himself. Attack him, and he'll fight like the dickens. Attack ordinary Americans, however, and he'll bow to the evil Marxists and terrorists that now roam the land, free to do whatever pillaging they wish.
So who do I vote for? It appears to me that no one in power really has my back. Republican Ducey is not much different than Andrew Cuomo, wielding power arbitrarily like a thug to crush the spirit of freedom. And Trump appears weak, unwilling to use the legal powers he has to stop the madness that it harming ordinary, innocent, law-abiding Americans who simply want the freedom to live their lives in the pursuit of happiness.
Trump was going to be the outsider who would finally force some change to the failed status quo in Washington. It now appears he can't really do it. If he doesn't change this impression soon, he is not going to win in November. The swing voters and previously uninvolved who had never voted before but were going to vote for Trump this time will not come out for him. They will have no reason to.
Readers!
In order to remain completely independent and honest in my writing, I accept no sponsorships from big space companies or any political organizations. Nor do I depend on ads.
Instead, I rely entirely on the generosity of readers to keep Behind the Black running. You can either make a one time donation for whatever amount you wish, or you sign up for a monthly subscription ranging from $2 to $15 through Paypal, or $3 to $50 through Patreon, or any amount through Zelle.
The best method to donate or subscribe is by using Zelle through your internet bank account, since it charges no fees to you or I. You will need to give my name and email address (found at the bottom of the "About" page). What you donate is what I get.
To use Patreon, go to my website there and pick one of five monthly subscription amounts, or by making a one-time donation.

For PayPal click one of the following buttons:

If these electronic payment methods don't work for you, you can support Behind The Black directly by sending your donation by check, payable to Robert Zimmerman, to


Behind The Black
c/o Robert Zimmerman
P.O.Box 1262
Cortaro, AZ 85652