"A naked abuse of authority."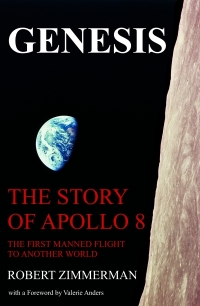 On Christmas Eve 1968 three Americans became the first humans to visit another world. What they did to celebrate was unexpected and profound, and will be remembered throughout all human history. Genesis: the Story of Apollo 8, Robert Zimmerman's classic history of humanity's first journey to another world, tells that story, and it is now available as both an ebook and an audiobook, both with a foreword by Valerie Anders and a new introduction by Robert Zimmerman.
The ebook is available everywhere for $5.99 (before discount) at
amazon
, or direct from my ebook publisher,
ebookit
.
The audiobook is also available at all these vendors, and is also
free with a 30-day trial membership to Audible.
"Not simply about one mission, [Genesis] is also the history of America's quest for the moon... Zimmerman has done a masterful job of tying disparate events together into a solid account of one of America's greatest human triumphs." --San Antonio Express-News
The quote that makes up my headline comes from Congressman Devin Nunes (R-California). It was said in response to the new information that has come out about how partisan and corrupt FBI agents, hostile to Trump and his administration, falsified the interview report of Trump's then National Security Adviser Michael Flynn in order to get him either "prosecuted or fired" (their words). The full quote:
"The FBI set up General Flynn — that is clear as day," Rep. Devin Nunes, ranking Republican on the House Intelligence Committee, tells RealClearInvestigations. "There is FBI leadership ordering the case kept open when agents wanted to close it for lack of evidence, the discussion of getting Flynn to lie or trying to get him fired, the ambush interview, the withholding of exculpatory evidence, and many other acts of blatant malfeasance. None of this is standard procedure. It's a naked abuse of authority."
Nunes might be a politician and a Republican (with the expected partisan agendas), but everything he says here is accurate and true (as has been the case for Nunes throughout this sorry affair). The article outlines in excruciating detail the fraud and manipulation that FBI officials Peter Srtzok, Lisa Page, and Andrew McCabe went through to rewrite the report of Flynn's FBI interview, in order to create the false impression that he had lied during that interview, and thus frame him.
Revealing this criminal activity and abuse of power by these FBI officials is good, but as long as they avoid indictments and punishment, we accomplish nothing. These people have to face juries, and go to prison. If they don't, then nothing will change in Washington, and in fact we in the future can expect more such abuses, coming from both parties.
Readers!
My July fund-raiser for Behind the Black is now over. The support from my readers was unprecedented, making this July campaign the best ever, twice over. What a marvelous way to celebrate the website's tenth anniversary!

Thank you! The number of donations in July, and continuing now at the beginning of August, is too many for me to thank you all personally. Please forgive me by accepting my thank you here, in public, on the website.

If you did not donate or subscribe in July and still wish to, note that the tip jar remains available year round.
Regular readers can support Behind The Black with a contribution via paypal:
If Paypal doesn't work for you, you can support Behind The Black directly by sending your donation by check, payable to Robert Zimmerman, to

Behind The Black
c/o Robert Zimmerman
P.O.Box 1262
Cortaro, AZ 85652