Amazing layers

echo do_shortcode( '[xyz-ihs snippet="post-header-html-snippet"]' ); ?>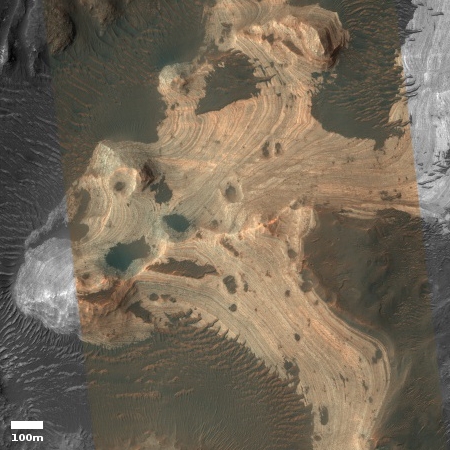 Click for full image.
Cool image time! The science team for the high resolution camera on Mars Reconnaissance Orbiter (MRO) today released a cool captioned image entitled "Exquisite Layering", showing a place on the floor of Holden Crater where the dust and sand that normally covers most of the Martian surface has been wiped away, cleared off because these layers are on higher sloping terrain.
The image to the right, cropped to post here, focuses in on that exposed layering, believed to be sedimentary and must have therefore happened in the eons following the impact that caused the crater.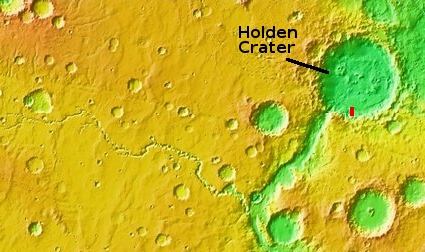 The overview map to the right shows with the red box the location of this layering inside Holden Crater. The map also illustrates why this crater was considered a candidate landing site for Curiosity. Like Gale Crater, it has evidence — the large meandering canyon system flowing into the crater — that suggests it had once been filled with a water lake. These sedimentary layers support that hypothesis, suggesting that this lake was intermittent. Each time it refilled and then dried up, it laid down a new deposit of those sedimentary layers.

echo do_shortcode( '[xyz-ihs snippet="post-above-comments-html-snippet"]' ); ?>