Journalist and author claims police actions against looting equals "white supremacy"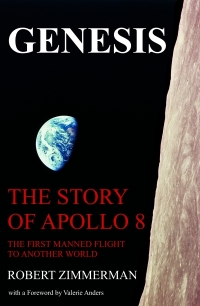 On Christmas Eve 1968 three Americans became the first humans to visit another world. What they did to celebrate was unexpected and profound, and will be remembered throughout all human history. Genesis: the Story of Apollo 8, Robert Zimmerman's classic history of humanity's first journey to another world, tells that story, and it is now available as both an ebook and an audiobook, both with a foreword by Valerie Anders and a new introduction by Robert Zimmerman.
The ebook is available everywhere for $5.99 (before discount) at
amazon
, or direct from my ebook publisher,
ebookit
.
The audiobook is also available at all these vendors, and is also
free with a 30-day trial membership to Audible.
"Not simply about one mission, [Genesis] is also the history of America's quest for the moon... Zimmerman has done a masterful job of tying disparate events together into a solid account of one of America's greatest human triumphs." --San Antonio Express-News
Our bankrupt intelligentsia: Journalist and author Sarah Jaffe went on Twitter yesterday to claim that the police effort to catch and arrest looters in Florida is the equivalent of "white supremacy."
When she was lambasted by numerous other Twitter users for this dumb statement she doubled down, implying (with an obscenity) that her critics were all Nazis.
This minor story illustrates two things. First, that someone as uneducated and thoughtless as this person can get published and be treated as a respected author demonstrates the intellectual bankruptcy of our modern elites. Everything to her is race and bigotry. Capitalism is evil. Anyone who disagrees with her is a racist or a Nazi. Comparing this childishness with the thought processes seen when you read Shakespeare, John Adams, or William Butler Yeats, and you will see that the future of modern western civilization does not look good.
Second, this story shows again why anyone who has any intelligence should avoid Twitter. That venue is not for thoughtful discussion. It is specifically designed to cause people to hurl insults at each other, and only serves to lower the level of our intellectual discourse. And I am not alone in this opinion.
Far more fundamental is the way Twitter intensifies and amplifies pathological social tendencies among those who act within, report on, and write about the political world. It turns politicians, political staffers, reporters, editors, pundits, and analysts into petty, vain, childish, showoffy, hostile, vindictive, dogmatic, impulsive, careless versions of their best and most professional selves. This makes Twitter horrible for our politics and equally bad for journalism. The single best thing for both politics and journalism would be for Twitter to go out of business tomorrow.
Readers!
My July fund-raiser for Behind the Black is now over. The support from my readers was unprecedented, making this July campaign the best ever, twice over. What a marvelous way to celebrate the website's tenth anniversary!

Thank you! The number of donations in July, and continuing now at the beginning of August, is too many for me to thank you all personally. Please forgive me by accepting my thank you here, in public, on the website.

If you did not donate or subscribe in July and still wish to, note that the tip jar remains available year round.
Regular readers can support Behind The Black with a contribution via paypal:
If Paypal doesn't work for you, you can support Behind The Black directly by sending your donation by check, payable to Robert Zimmerman, to

Behind The Black
c/o Robert Zimmerman
P.O.Box 1262
Cortaro, AZ 85652