Musk: Tesla leaving California due to government-imposed shut down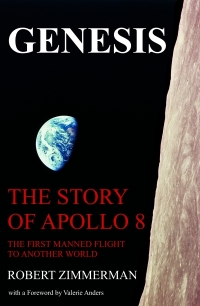 On Christmas Eve 1968 three Americans became the first humans to visit another world. What they did to celebrate was unexpected and profound, and will be remembered throughout all human history. Genesis: the Story of Apollo 8, Robert Zimmerman's classic history of humanity's first journey to another world, tells that story, and it is now available as both an ebook and an audiobook, both with a foreword by Valerie Anders and a new introduction by Robert Zimmerman.
The ebook is available everywhere for $5.99 (before discount) at
amazon
, or direct from my ebook publisher,
ebookit
.
The audiobook is also available at all these vendors, and is also
free with a 30-day trial membership to Audible.
"Not simply about one mission, [Genesis] is also the history of America's quest for the moon... Zimmerman has done a masterful job of tying disparate events together into a solid account of one of America's greatest human triumphs." --San Antonio Express-News
Good: Elon Musk yesterday announced in a furious tweet yesterday that he has had enough of the government-imposed shut down in California due to the Wuhan flu panic, and will be shifting Tesla operations from that state.
"Frankly, this is the final straw," Musk tweeted. "Tesla will now move its HQ and future programs to Texas/Nevada immediately. If we even retain Fremont manufacturing activity at all, it will be dependen (sic) on how Tesla is treated in the future. Tesla is the last carmaker left in CA."
He is also suing Alameda County, since its order to stay closed contradicted the okay he had gotten from fascist governor Gavin Newsom. How these actions here will effect SpaceX is not yet clear. Last I heard that company was going to put its factory to build Starship in the port of Los Angeles. Maybe not now.
I expect more businesses that can will be shifting their operations from the dictatorial Democratically-controlled blue states to places that are more friendly to freedom and free enterprise.
A bit of history: This flight from leftist states mirrors what happened in East Germany during the 1950s during the Cold War. The Soviets, direct ancestors to today's Democratic Party, were insistent on imposing communism in East Germany, which quickly resulted in poverty and an inability of anyone to make a living. In response people and businesses fled in great numbers, making East Germany the only country in Europe to be losing population.
To solve this, Khrushchev decided in 1961 to build the Berlin Wall and make everyone in East Germany a prisoner. I will not be surprised if the leftist states, such as California, Oregon, Washington, New Jersey, and New York, soon consider the same solution. Nor would I be surprised if soon these very states find large portions seceding from them to also escape this tyranny.
Readers!
My July fund-raiser for Behind the Black is now over. The support from my readers was unprecedented, making this July campaign the best ever, twice over. What a marvelous way to celebrate the website's tenth anniversary!

Thank you! The number of donations in July, and continuing now at the beginning of August, is too many for me to thank you all personally. Please forgive me by accepting my thank you here, in public, on the website.

If you did not donate or subscribe in July and still wish to, note that the tip jar remains available year round.
Regular readers can support Behind The Black with a contribution via paypal:
If Paypal doesn't work for you, you can support Behind The Black directly by sending your donation by check, payable to Robert Zimmerman, to

Behind The Black
c/o Robert Zimmerman
P.O.Box 1262
Cortaro, AZ 85652