NASA signs deal with Russians for one Soyuz seat to ISS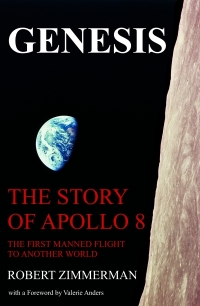 On Christmas Eve 1968 three Americans became the first humans to visit another world. What they did to celebrate was unexpected and profound, and will be remembered throughout all human history. Genesis: the Story of Apollo 8, Robert Zimmerman's classic history of humanity's first journey to another world, tells that story, and it is now available as both an ebook and an audiobook, both with a foreword by Valerie Anders and a new introduction by Robert Zimmerman.
The ebook is available everywhere for $5.99 (before discount) at
amazon
, or direct from my ebook publisher,
ebookit
.
The audiobook is also available at all these vendors, and is also
free with a 30-day trial membership to Audible.
"Not simply about one mission, [Genesis] is also the history of America's quest for the moon... Zimmerman has done a masterful job of tying disparate events together into a solid account of one of America's greatest human triumphs." --San Antonio Express-News
Citing a need to provide some back-up in case there are more delays getting the American manned capsules being built by SpaceX and Boeing into operation, NASA yesterday announced that it has signed a deal with Roscosmos to buy one seat on the October Soyuz launch to ISS.
The statement did not disclose the value of the deal, but NASA spokesman Josh Finch told SpaceNews the agreement is valued at $90.25 million. That includes the seat on the Soyuz spacecraft and various training, pre-launch and post-landing services. In addition, Finch said that NASA will compensate Roscosmos for bumping a Russian cosmonaut off that Soyuz mission by flying an unspecified amount of Russian cargo to the station on NASA commercial cargo spacecraft.
I wonder if there are other political reasons behind this deal, besides insuring American access to ISS. $90 million is a lot of money to the Russians, and considering their impending loss of income from NASA (with us no longer buying Soyuz seats in the future) as well as their loss of most of their commercial launch business, it could be that NASA managers wanted to shore up Roscosmos's financial situation. Remember, at NASA there are many who swear a greater loyalty to space operations from all countries, even at the expense of the United States.
Readers!
My July fund-raiser for Behind the Black is now over. The support from my readers was unprecedented, making this July campaign the best ever, twice over. What a marvelous way to celebrate the website's tenth anniversary!

Thank you! The number of donations in July, and continuing now at the beginning of August, is too many for me to thank you all personally. Please forgive me by accepting my thank you here, in public, on the website.

If you did not donate or subscribe in July and still wish to, note that the tip jar remains available year round.
Regular readers can support Behind The Black with a contribution via paypal:
If Paypal doesn't work for you, you can support Behind The Black directly by sending your donation by check, payable to Robert Zimmerman, to

Behind The Black
c/o Robert Zimmerman
P.O.Box 1262
Cortaro, AZ 85652