Seismic data of Yellowstone has found a bigger second magma chamber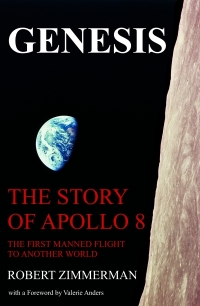 On Christmas Eve 1968 three Americans became the first humans to visit another world. What they did to celebrate was unexpected and profound, and will be remembered throughout all human history. Genesis: the Story of Apollo 8, Robert Zimmerman's classic history of humanity's first journey to another world, tells that story, and it is now available as both an ebook and an audiobook, both with a foreword by Valerie Anders and a new introduction by Robert Zimmerman.
The ebook is available everywhere for $5.99 (before discount) at
amazon
, or direct from my ebook publisher,
ebookit
.
The audiobook is also available at all these vendors, and is also
free with a 30-day trial membership to Audible.
"Not simply about one mission, [Genesis] is also the history of America's quest for the moon... Zimmerman has done a masterful job of tying disparate events together into a solid account of one of America's greatest human triumphs." --San Antonio Express-News
Geologists have mapped the existence of a second deeper and larger magma chamber under Yellowstone National Park.
Scientists had already known about a plume, which brings molten rock up from deep in the mantle to a region about 60 kilometers below the surface. And they had also imaged a shallow magma chamber about 10 kilometers below the surface, containing about 10,000 cubic kilometers of molten material. But now they have found a deeper one, 4.5 times larger, that sits between 20 and 50 kilometers below the surface. "They found the missing link between the mantle plume and the shallow magma chamber," says Peter Cervelli, a geophysicist in Anchorage, Alaska, who works at the U.S. Geological Survey's Yellowstone Volcano Observatory.

The discovery does not, on its own, increase the chance of an eruption, which is driven by an emptying of the shallow chamber. The last major eruption was 640,000 years ago, and today the threat of earthquakes is far more likely. But the deeper chamber does mean that the shallow chamber can be replenished again and again. "Knowing that you have this additional reservoir tells you you could have a much bigger volume erupt over a relatively short time scale," says co-author Victor Tsai, a geophysicist at the California Institute of Technology in Pasadena. The discovery, reported online today in Science, also confirms a long-suspected model for some volcanoes, in which a deep chamber of melted basalt, a dense iron- and magnesium-rich rock, feeds a shallower chamber containing a melted, lighter silicon-rich rock called a rhyolite.
Readers!
My July fund-raiser for Behind the Black is now over. The support from my readers was unprecedented, making this July campaign the best ever, twice over. What a marvelous way to celebrate the website's tenth anniversary!

Thank you! The number of donations in July, and continuing now at the beginning of August, is too many for me to thank you all personally. Please forgive me by accepting my thank you here, in public, on the website.

If you did not donate or subscribe in July and still wish to, note that the tip jar remains available year round.
Regular readers can support Behind The Black with a contribution via paypal:
If Paypal doesn't work for you, you can support Behind The Black directly by sending your donation by check, payable to Robert Zimmerman, to

Behind The Black
c/o Robert Zimmerman
P.O.Box 1262
Cortaro, AZ 85652