Trump unclassifies FISA warrants, interviews; orders release of unredacted FBI text messages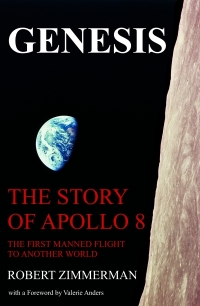 On Christmas Eve 1968 three Americans became the first humans to visit another world. What they did to celebrate was unexpected and profound, and will be remembered throughout all human history. Genesis: the Story of Apollo 8, Robert Zimmerman's classic history of humanity's first journey to another world, tells that story, and it is now available as both an ebook and an audiobook, both with a foreword by Valerie Anders and a new introduction by Robert Zimmerman.
The ebook is available everywhere for $5.99 (before discount) at
amazon
, or direct from my ebook publisher,
ebookit
.
The audiobook is also available at all these vendors, and is also
free with a 30-day trial membership to Audible.
"Not simply about one mission, [Genesis] is also the history of America's quest for the moon... Zimmerman has done a masterful job of tying disparate events together into a solid account of one of America's greatest human triumphs." --San Antonio Express-News
Trump has today unclassified both the FISA Carter Page application and the FBI interviews connected with that application. He also ordered the release, unredacted, of all FBI text messages of James Comey, Andrew McCabe, Peter Strzok, Lisa Page, and Bruce Ohr.
This information I think is going to demonstrate that the certain people at the FBI have been running an anti-Trump/pro-Democratic Party operation, concocting a false claim of Russian-Trump collusion in order to remove a duly elected President. Moreover, comparing the previously released redacted text messages with the unredacted messages is almost certainly going to reveal that someone at the FBI has acting to obstruct the investigation.
I wonder if anyone will ask the question "Who?"
I should also point out that Trump himself could have read these documents whenever he wanted. He doesn't need to declassify them to see them, and form judgements from them. Moreover, the redactions only apply to the public, not to Trump. He could have seen this anytime, and acted immediately, if he had chosen.
Instead, he chose to wait and wait, and then release this now, at a moment when all eyes are aimed at the fake scandal being perpetrated by the Democrats against his Supreme Court nominee.
Readers!
My July fund-raiser for Behind the Black is now over. The support from my readers was unprecedented, making this July campaign the best ever, twice over. What a marvelous way to celebrate the website's tenth anniversary!

Thank you! The number of donations in July, and continuing now at the beginning of August, is too many for me to thank you all personally. Please forgive me by accepting my thank you here, in public, on the website.

If you did not donate or subscribe in July and still wish to, note that the tip jar remains available year round.
Regular readers can support Behind The Black with a contribution via paypal:
If Paypal doesn't work for you, you can support Behind The Black directly by sending your donation by check, payable to Robert Zimmerman, to

Behind The Black
c/o Robert Zimmerman
P.O.Box 1262
Cortaro, AZ 85652