Weather improves for tomorrow's manned Dragon launch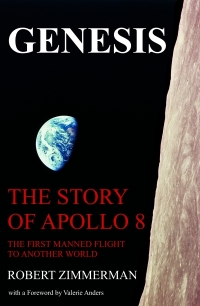 On Christmas Eve 1968 three Americans became the first humans to visit another world. What they did to celebrate was unexpected and profound, and will be remembered throughout all human history. Genesis: the Story of Apollo 8, Robert Zimmerman's classic history of humanity's first journey to another world, tells that story, and it is now available as both an ebook and an audiobook, both with a foreword by Valerie Anders and a new introduction by Robert Zimmerman.
The ebook is available everywhere for $5.99 (before discount) at
amazon
, or direct from my ebook publisher,
ebookit
.
The audiobook is also available at all these vendors, and is also
free with a 30-day trial membership to Audible.
"Not simply about one mission, [Genesis] is also the history of America's quest for the moon... Zimmerman has done a masterful job of tying disparate events together into a solid account of one of America's greatest human triumphs." --San Antonio Express-News
Capitalism in space: The weather outlook has brightened tomorrow, increasing the chances that the SpaceX's manned Dragon capsule will launch as scheduled.
No major technical issues of any significance were under discussion Monday, but the weather could be a factor. Forecasters initially predicted a 60% chance of a weather-related launch rule violation, but Mike McAleenan, launch weather officer with the 45th Weather Squadron, said conditions appeared to be improving somewhat. "If I was to issue the forecast today, right now we would probably be down to 40% chance of violation," he said. "We have a bit more rain to go here and maybe another round of afternoon thunderstorms tomorrow, but … it looks like much less (cloud) coverage. So we have some hope for launch day."

But McAleenan's forecast does not include downrange conditions in the Atlantic Ocean along the Crew Dragon's trajectory where Hurley and Behnken could be forced to ditch in the unlikely event of a catastrophic booster failure during the climb to space.

SpaceX managers will assess a complicated mix of weather models, high-altitude balloon data and actual wind, rain and wave data from multiple buoys along the ground track to determine whether conditions, on average, are acceptable for launch.
The launch is set for 4:33 pm. I will embed SpaceX's live stream here on Behind the Black tomorrow earlier in the day, when things begin..
Readers!
My July fund-raiser for Behind the Black is now over. The support from my readers was unprecedented, making this July campaign the best ever, twice over. What a marvelous way to celebrate the website's tenth anniversary!

Thank you! The number of donations in July, and continuing now at the beginning of August, is too many for me to thank you all personally. Please forgive me by accepting my thank you here, in public, on the website.

If you did not donate or subscribe in July and still wish to, note that the tip jar remains available year round.
Regular readers can support Behind The Black with a contribution via paypal:
If Paypal doesn't work for you, you can support Behind The Black directly by sending your donation by check, payable to Robert Zimmerman, to

Behind The Black
c/o Robert Zimmerman
P.O.Box 1262
Cortaro, AZ 85652