An evening pause: This lovely and poignant scene from the 1945 film, A Bell for Adano, showcases the superb acting of Gene Tierney and John Hodiak. He is an American commander of Italian descent put in charge of an Italian village now under U.S. rule near the end of World War II. She is a local Italian girl longing to find her sweetheart who went off to fight for Italy and is now missing.
The movie was based on a short but profound book by John Hersey. And what I remember most from that book is this speech by the Hodiak character in trying to explain to the Italians the right way for government officials to act:

Adano has been a Fascist town. That is natural, because the country was Fascist, therefore the town was also. But now that the Americans have come, we are going to run the town as a democracy.

Perhaps you do not know what a democracy is. I will tell you.

Democracy is this: democracy is that the men of the government are no longer the masters of the people. They are the servants of the people. What makes a man master of another man? It is that he pays him for his work. Who pays the men in the government? The people do, for they pay the taxes out of which you are paid.

Therefore you are now the servants of the people of Adano. I too am their servant. When I go buy bread, I shall take my place at the end of the line, and I will wait my turn. You too must behave now as servants, not as masters. You must behave as the servant of the man without shoes just as much as the baron. If I find that any of you are not giving the type of service that I desire, I shall have to remove you from office.

Remember: you are servants now. You are servants of the people of Adano. And watch: this thing will make you happier than you have ever been in your lives.
I think every politician in America should be required to read this book, and learn a little humility. It might help them do a better job. It also, as Hersey wrote, might make them a bit happier.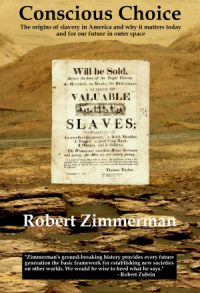 Now available in hardback and paperback as well as ebook!
From the press release: In this ground-breaking new history of early America, historian Robert Zimmerman not only exposes the lie behind The New York Times 1619 Project that falsely claims slavery is central to the history of the United States, he also provides profound lessons about the nature of human societies, lessons important for Americans today as well as for all future settlers on Mars and elsewhere in space.
Conscious Choice: The origins of slavery in America and why it matters today and for our future in outer space
, is a riveting page-turning story that documents how slavery slowly became pervasive in the southern British colonies of North America, colonies founded by a people and culture that not only did not allow slavery but in every way were hostile to the practice.
Conscious Choice
does more however. In telling the tragic history of the Virginia colony and the rise of slavery there, Zimmerman lays out the proper path for creating healthy societies in places like the Moon and Mars.
"Zimmerman's ground-breaking history provides every future generation the basic framework for establishing new societies on other worlds. We would be wise to heed what he says." —Robert Zubrin, founder of founder of the Mars Society.
All editions are available at Amazon, Barnes & Noble, and all book vendors, with the ebook priced at $5.99 before discount. The ebook can also be purchased direct from my ebook publisher, ebookit, in which case you don't support the big tech companies and I get a bigger cut much sooner.
Autographed printed copies are also available at discount directly from me (hardback $24.95; paperback $14.95; Shipping cost for either: $5.00). Just email me at zimmerman @ nasw dot org.