An evening pause: I've posted similar early 1900 film footage for Paris and San Francisco. My one reservation about this restoration is the adding of color. They don't over do it, but adds an element of inaccuracy to the footage.
Hat tip Mike Nelson, noted some of the same things I did with the previous examples.
What strikes me is how well dressed everyone was, how there was no trash on the streets (despite no obvious public trash cans), no graffiti, no road rage despite the complete lack of traffic control, and the air quality looked significantly worse than today. Other than cleaner air I'm not so sure we can call today a big improvement.
I personally am not sure the air quality was worse either. Watch, and get a sense of what America was once like.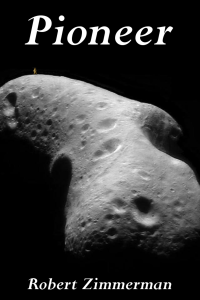 From the press release: From the moment he is handed a possibility of making the first alien contact, Saunders Maxwell decides he will do it, even if doing so takes him through hell and back.
Unfortunately, that is exactly where that journey takes him. The vision that Zimmerman paints of vibrant human colonies on the Moon, Mars, the asteroids, and beyond, indomitably fighting the harsh lifeless environment of space to build new societies, captures perfectly the emerging space race we see today. He also captures in Pioneer the heart of the human spirit, willing to push forward no matter the odds, no matter the cost. It is that spirit that will make the exploration of the heavens possible, forever, into the never-ending future. Available everywhere for $3.99 (before discount) at
amazon
,
Barnes & Noble
, all ebook vendors, or direct from the ebook publisher,
ebookit
. And if you buy it from
ebookit
you don't support the big tech companies and I get a bigger cut much sooner.