An evening pause, posted early for Thanksgiving: I posted this for Thanksgiving back in 2012. It is worth watching and singing again, in these terrible times. The hope of America will always live on, even when America is gone. Ordinary people want freedom, love, family, and the right to live their lives as they wish, without harming others, so they can bring in "the blessings of harvest," whatever that harvest might be. It must be our goal to allow that to happen, and to stop those that wish to prevent it.
The promise of living
With hope and thanksgiving,,,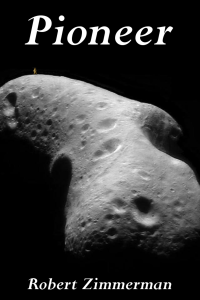 From the press release: From the moment he is handed a possibility of making the first alien contact, Saunders Maxwell decides he will do it, even if doing so takes him through hell and back.
Unfortunately, that is exactly where that journey takes him.
The vision that Zimmerman paints of vibrant human colonies on the Moon, Mars, the asteroids, and beyond, indomitably fighting the harsh lifeless environment of space to build new societies, captures perfectly the emerging space race we see today.
He also captures in Pioneer the heart of the human spirit, willing to push forward no matter the odds, no matter the cost. It is that spirit that will make the exploration of the heavens possible, forever, into the never-ending future.
Available everywhere for $3.99 (before discount) at
amazon
,
Barnes & Noble
, all ebook vendors, or direct from the ebook publisher,
ebookit
.