An evening pause: This seems especially appropriate with the arrival of another rover on Mars last week.
On their first day of three on the lunar surface, John Young and Charles Duke deployed their rover and took it for a test drive before heading out to nearby Plum Crater for two hours of sample gathering and exploration.
This footage shows Young driving with Duke filming and reporting what he sees. The goal was to gather engineering data on how the rover's wheels functioned in the very dusty lunar soil.
This short clip nicely illustrates the ambitious achievement of the American Apollo missions that should give pause to any arrogant modern young engineer. This was before home computers and CAD-CAM. It was designed by hand and slide-rule, using inches, pounds, and feet. And it worked, and worked magnificently. Oh if we today could only do as well.
Hat tip Björn "Local Fluff" Larsson.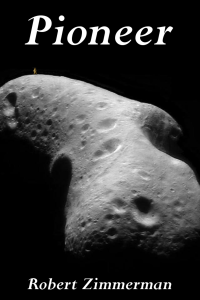 From the press release: From the moment he is handed a possibility of making the first alien contact, Saunders Maxwell decides he will do it, even if doing so takes him through hell and back.
Unfortunately, that is exactly where that journey takes him.
The vision that Zimmerman paints of vibrant human colonies on the Moon, Mars, the asteroids, and beyond, indomitably fighting the harsh lifeless environment of space to build new societies, captures perfectly the emerging space race we see today.
He also captures in Pioneer the heart of the human spirit, willing to push forward no matter the odds, no matter the cost. It is that spirit that will make the exploration of the heavens possible, forever, into the never-ending future.
Available everywhere for $3.99 (before discount) at
amazon
,
Barnes & Noble
, all ebook vendors, or direct from the ebook publisher,
ebookit
. And if you buy it from
ebookit
you don't support the big tech companies and I get a bigger cut much sooner.