An evening pause: I think this song is fitting for the last night of Hanukkah. For Jews, this verse well describes perfectly what it is like when they try to express their point of view in a harsh and hostile world:
"Fools" said I, "You do not know
Silence like a cancer grows
Hear my words that I might teach you
Take my arms that I might reach you"
But my words like silent raindrops fell
And echoed in the wells of silence
The two singers are brothers and rabbis, and are performing here for an Israeli television show modeled after American Idol called Rising Star.
Hat tip Jim Mallamace.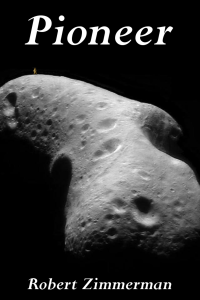 From the press release: From the moment he is handed a possibility of making the first alien contact, Saunders Maxwell decides he will do it, even if doing so takes him through hell and back.
Unfortunately, that is exactly where that journey takes him. The vision that Zimmerman paints of vibrant human colonies on the Moon, Mars, the asteroids, and beyond, indomitably fighting the harsh lifeless environment of space to build new societies, captures perfectly the emerging space race we see today. He also captures in Pioneer the heart of the human spirit, willing to push forward no matter the odds, no matter the cost. It is that spirit that will make the exploration of the heavens possible, forever, into the never-ending future. Available everywhere for $3.99 (before discount) at
amazon
,
Barnes & Noble
, all ebook vendors, or direct from the ebook publisher,
ebookit
. And if you buy it from
ebookit
you don't support the big tech companies and I get a bigger cut much sooner.