An evening pause: I would not be surprised if some of the younger readers of Behind the Black would need the instructions in this silent film in order to properly use a rotary phone.
Introducing any new technology requires instruction. This was strange stuff to homeowners in 1927, but a great improvement over party line phones that required an operator to do the dialing. And this was cutting edge then, and a symbol of the future.
Hat tip Jim Mallamace.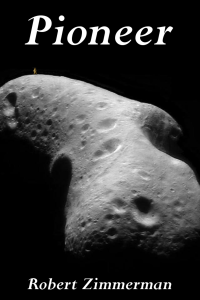 From the press release: From the moment he is handed a possibility of making the first alien contact, Saunders Maxwell decides he will do it, even if doing so takes him through hell and back.
Unfortunately, that is exactly where that journey takes him.
The vision that Zimmerman paints of vibrant human colonies on the Moon, Mars, the asteroids, and beyond, indomitably fighting the harsh lifeless environment of space to build new societies, captures perfectly the emerging space race we see today.
He also captures in Pioneer the heart of the human spirit, willing to push forward no matter the odds, no matter the cost. It is that spirit that will make the exploration of the heavens possible, forever, into the never-ending future.
Available everywhere for $3.99 (before discount) at
amazon
,
Barnes & Noble
, all ebook vendors, or direct from the ebook publisher,
ebookit
.