An evening pause: For Memorial Day, on which we not only honor the war dead but we are supposed to refresh our memories about why we fought in the first place. This color footage of occupied Berlin shortly after surrender shows the devastation after World War II. Though it is tragic to see, I will be honest and admit that I feel little sorrow. The Germans brought this upon themselves by plunging the world into two world wars, and in the second used it as an excuse to commit unspeakable genocide. In order to make sure they would never do it again, and would instead become a part of the civilized world, it was necessary to hit them as hard as these images show. Churchill, Roosevelt, and Stalin all understood this. So did the entire populations of all three allies.
If only we had the courage today to do the same to the petty dictators and Islamic fanatics in the Middle East. They are as brutal, as violent, and as bigoted as the Nazis were, and will soon have atomic weapons at their disposal to use as they wish. To really bring them to heel they need to be given the same harsh lessons we gave the Germans.
I fear however we will not have the courage to do so until after they drop some nuclear bombs on a few cities.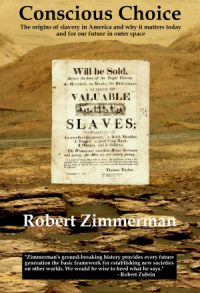 From the press release: In this ground-breaking new history of early America, historian Robert Zimmerman not only exposes the lie behind The New York Times 1619 Project that falsely claims slavery is central to the history of the United States, he also provides profound lessons about the nature of human societies, lessons important for Americans today as well as for all future settlers on Mars and elsewhere in space.
Conscious Choice: The origins of slavery in America and why it matters today and for our future in outer space
, is a riveting page-turning story that documents how slavery slowly became pervasive in the southern British colonies of North America, colonies founded by a people and culture that not only did not allow slavery but in every way were hostile to the practice.
Conscious Choice
does more however. In telling the tragic history of the Virginia colony and the rise of slavery there, Zimmerman lays out the proper path for creating healthy societies in places like the Moon and Mars.
"Zimmerman's ground-breaking history provides every future generation the basic framework for establishing new societies on other worlds. We would be wise to heed what he says." —Robert Zubrin, founder of founder of the Mars Society.
Available everywhere for $3.99 (before discount) at Amazon, Barnes & Noble, and all ebook vendors, or direct from the ebook publisher, ebookit. And if you buy it from ebookit you don't support the big tech companies and I get a bigger cut much sooner.