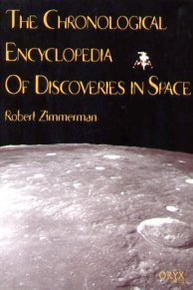 After being in print for twenty years, the Chronological Encyclopedia of Discoveries in Space, covering everything that was learned on every single space mission in the 20th century, has finally gone out of print.
I presently have my last four hardback copies available for sale. The book sold new for about $90. To get your own autographed copy of this now rare collector's item, please send a $120 check (which includes shipping) payable to Robert Zimmerman to
Behind The Black, c/o Robert Zimmerman
P.O.Box 1262
Cortaro, AZ 85652

"Useful to space buffs and generalists, comprehensive but readable, Bob Zimmerman's Encyclopedia belongs front and center on everyone's bookshelf." -- Mike Collins, Apollo 11 astronaut
"The Chronological Encylopedia of Discoveries in Space is no passionless compendium of information. Robert Zimmerman's fact-filled reports, which cover virtually every spacecraft or probe to have ventured into the heavens, relate the scientific and technical adventure of space exploration enthusiastically and with authority." -- American Scientist
An evening pause: Performed live on Bob Baxter's "Guitar Workshop" in 1973. Hat tip to jwing, who wrote the following when he sent me the link:
Clarence was instrumental in making flat-picking guitar a lead solo instrument in bluegrass, along with Doc Watson. He played as a session musician for many groups in the 60's such as the Everly Brothers and The Monkees. Later he became the lead guitarist for Roger McGuinn's Byrds. He developed the B-string bender invention that you can hear on the Eagles' song "Take It Easy." Sadly, in 1973 while packing up the band's van after a late night gig he was hit by a drunk driver and was killed. A huge loss to music. This video was recorded in LA only a few months before that fateful night. Enjoy a true virtuoso.