An evening pause:
Galileo fell in love as a Galilean boy
And he wondered what in heaven, who'd invented such a joy.
But the question got the better of his scientific mind
And to his blind and dying day
He'd look up high and love and sighed and sometimes cried,
Who puts the rainbows in the sky?
Who lights the stars in the night?
Who dreamt up someone so divine?
Someone like you and made them mine?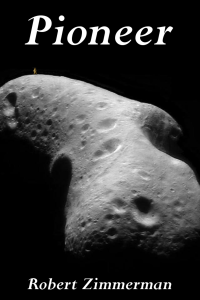 From the press release: From the moment he is handed a possibility of making the first alien contact, Saunders Maxwell decides he will do it, even if doing so takes him through hell and back.
Unfortunately, that is exactly where that journey takes him.
The vision that Zimmerman paints of vibrant human colonies on the Moon, Mars, the asteroids, and beyond, indomitably fighting the harsh lifeless environment of space to build new societies, captures perfectly the emerging space race we see today.
He also captures in Pioneer the heart of the human spirit, willing to push forward no matter the odds, no matter the cost. It is that spirit that will make the exploration of the heavens possible, forever, into the never-ending future.
Available everywhere for $3.99 (before discount) at
amazon
,
Barnes & Noble
, all ebook vendors, or direct from the ebook publisher,
ebookit
.