An evening pause: As I have been out today doing survey work for a cave project of which I am the cartographer, I thought this video of Hang Son Doong (Mountain River Cave) would be appropriate.
Note that this cave is definitely not the largest in the world, as is often claimed. It appears to have the largest single room of any known cave, but the cave itself is relatively small at about four miles, compared for example to Mammoth Cave in Kentucky, which is the world's longest cave at 400 miles.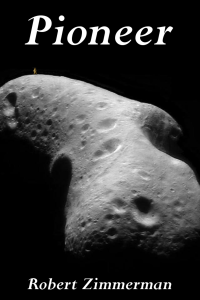 From the press release: From the moment he is handed a possibility of making the first alien contact, Saunders Maxwell decides he will do it, even if doing so takes him through hell and back.
Unfortunately, that is exactly where that journey takes him. The vision that Zimmerman paints of vibrant human colonies on the Moon, Mars, the asteroids, and beyond, indomitably fighting the harsh lifeless environment of space to build new societies, captures perfectly the emerging space race we see today. He also captures in Pioneer the heart of the human spirit, willing to push forward no matter the odds, no matter the cost. It is that spirit that will make the exploration of the heavens possible, forever, into the never-ending future. Available everywhere for $3.99 (before discount) at
amazon
,
Barnes & Noble
, all ebook vendors, or direct from the ebook publisher,
ebookit
. And if you buy it from
ebookit
you don't support the big tech companies and I get a bigger cut much sooner.